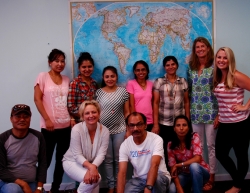 Denver, CO, September 11, 2015 --(
PR.com
)--
The United States has contributed over $4 billion in humanitarian assistance since the Syrian crisis began, and projects to give over $1 billion this year. The US already accepts roughly 70,000 legal refugees a year through our resettlement program.
And, just this week,
President Obama announced we will accept at least 10,000 more Syrian refugees in the next fiscal year.
"I believe it is a good thing Americans are a generous and compassionate people. After all, our country was largely created from immigrants and those fleeing the persecution of their homelands. But today the discussion only focuses on political posturing and more government spending rather than supporting business initiatives to help refugees rebuild their lives here in America," said
Liberti
Co-Founder Pamela Shelpuk.
In its
2013 report to Congress, the Office of Refugee Resettlement (ORR
) reported, current government policies and programs for refugee resettlement costs exceed $10 billion per year. "We cannot continue down this path without a strong 'pro-business' plan to support expanding on our current refugee program," said Shelpuk.
While there will always be those who will argue over the idea of accepting more refugees, the US certainly has the resources and space to take in more. America needs to incentivize startups, small businesses and multinational corporations to hire, train and empower these refugees to become assets in our communities. Refugees not only bring diversity to our neighborhoods, but they provide economic opportunities through their pursuit of the American Dream.
America's creativity, ingenuity and capitalistic economy have helped create a long list of refugee success stories such as Hungarian refugee and former Intel Chairman Andy Grove, Cuban refugee and former Secretary of Commerce and Kellogg CEO Carlos Gutierrez, and the numerous Asian refugees and now-founders of prominent US high-tech companies. These are shining examples of refugees who've made the most of opportunities available to them here in the United States, and have contributed to our country's industrial dominance.
Liberti's goal is to create a social movement in this country that supports a unique "for-profit" social business model, embracing all refugees as an asset to our country. Liberti Creators are resettled refugees in America who take pride in the style and integrity of each and every piece of jewelry made. All purchases impact these women by providing them with a living wage and the opportunity to share in the profits. Many of these refugee women come from war-torn and poverty-stricken regions of Asia such as Nepal, Burma and Bhutan, where they faced unspeakable acts of brutality, persecution and devastating natural disasters.
Liberti's home state of Colorado embraces thousands of newly resettled refugees every year, and Liberti is an example of the importance that each state has to actively support social enterprises. Help carry the torch to empower lives with a socially responsible business that not only provides a living wage, but also a chance to share in the profits.
About Liberti
The mission of Liberti is to help transform American consumers into socially conscious change makers, one transaction at a time. Donate to the
Liberti
Kickstarter campaign and you'll be helping a one-of-a kind, made in America model and brand that empowers and employs resettled refugees living right here in our own backyards.
Contact: Cara Dingenthal - cara@activatebrands.com