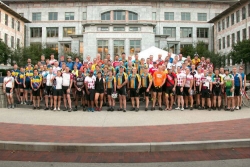 Atlanta, GA, September 11, 2015 --(
PR.com
)--
Action Cycling Atlanta
, the all-volunteer group that produces the AIDS Vaccine (AV) 200 ride to benefit AIDS vaccine research at the Emory Vaccine Center and local AIDS service organizations, is hosting a closing party Sunday, Sept. 20, 3-5 p.m., at the Emory University School of Medicine (1648 Pierce DR NE, Atlanta 30322).
"In addition to presenting checks to our beneficiaries, we'll celebrate the riders and their supporters," says Scott Drinkard, Action Cycling Board President. "Thanks to our generous sponsors and patrons, Action Cycling is able to donate 100 percent of all funds raised by participants to local ASOs and AIDS vaccine research. These unrestricted funds fill funding gaps that cannot be met through grant dollars alone."
Drinkard notes that the public is invited to the event, with RSVPs requested by Thursday, Sept. 17: RSVP@ActionCycling.org. "There is no cost to attend the event," he says, "but we're of course always accepting donations."
Representatives from the Emory Vaccine Center, Positive Impact and Jerusalem House will be on hand for the check presentation. Food is being provided by Radial Café and drinks, including beer, wine and non-alcoholic choices, will be provided by Action Cycling.
Drinkard says that the 2015 AV200 – the 13th annual event – raised nearly $250,000 and that, cumulatively, the group has raised more than $2 million for the Emory Vaccine Center and ASOs.
The two-day, 200-mile bicycle event travels from Emory University to Eatonton, Ga. in the Oconee National Forest and back to Emory. Participants include individual riders and relay teams, with support from a volunteer crew.
Registration for the 2016 AV200 ride, which will take place May 14-15, 2016, is now open at
www.AV200.org
. Participants may register as individuals, as part of a team, or as a fundraising, non-riding volunteer. Anyone interested in becoming a patron, sponsor, in-kind-sponsor, or in donating silent auction items should contact Sponsor Subcommittee Chair Sam Morgan, smorgan@actioncycling.org, or Action Cycling Atlanta Board Member Chuck Podgurski, cpodgurski@actioncycling.org.
"Building public awareness for HIV/AIDS vaccine research is challenging," Drinkard says. "Raising money for an AIDS Vaccine is difficult. And making the commitment to accept these challenges is a serious one, but we make it fun – and rewarding – by creating great events throughout the year leading up to the big ride itself."