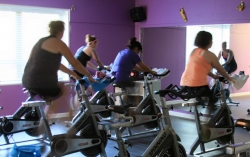 Wakefield, MA, September 16, 2015 --(
PR.com
)-- Fitness Balanced, a​ ​group exercise and personal training studio brand new to Wakefield,​ ​has created buzz throughout the community in​ ​just​ ​a few short weeks​, ​since it's opening ​earlier ​this month. Celebrating their grand opening with an open house​ ​on​ ​Saturday September 12th, Fitness Balanced​ ​was​ ​filled with women of all ages and fitness levels, excited for free classes and a nutrition seminar. Raffle prizes were provided by local businesses, with all proceeds to benefit the Northeast Animal​ ​S​helter​located in Salem.
Breanne McGinness, an exercise physiologist and nutrition specialist, is excited about the feedback they have received thus far. "The open house really was a success. We got to meet so many wonderful women in the community and spread our training philosophies of balance and moderation. ​My partner and I are both very excited for this next chapter."
The studio, located at 591 North Ave, was created by dynamic duo Jenna Taylor and Breanne McGinness, well​-​known trainers on the North Shore​ of Boston​. With years of experience in the fitness industry, the owners used their knowledge to build a schedule of classes that will best suit the needs of their clientele. From S​pinning, TRX, ​​and Zumba to ​B​arre and ​Y​oga, the class schedule is anything but lacking.
"We really saw the need for a safe place for women to exercise, focused primarily on support and education," says Jenna Taylor, a certified trainer through NASM, "​and we had been searching for the perfect location to provide services to the North shore community." She is thrilled with the beautiful studio created for Fitness Balanced this past summer. "We couldn't be more excited to share our studio with our members. The vibrant colors and welcoming atmosphere is exactly as we imagined."
Breanne explains their staff as​ a colorful group​ of women,​ filled with energy and personality.​ "All our group exercise instructors have years of experience, are fun and motivating, and many are local residents. We really wanted to be sure we made an impact."
Fitness Balanced has many different membership options available, from class cards to unlimited monthly classes. Their training schedule allows women to take a variety of classes, - all under one roof - in an inviting and comfortable space. They have now extended their grand opening specials until the end of September. With affordable pricing and work-friendly hours, this women​-​only studio is sure to exceed expectations.
For more information on Fitness Balanced, contact bre@fitnessbalanced.com or jenna@fitnessbalanced.com. You may also visit their website
www.fitnessbalanced.com
or call 781-587-1048.
Fitness Balanced is located at 591 North Avenue Door 4, Second Floor, Wakefield MA 01880.