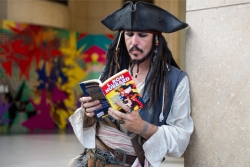 Hollywood, CA, September 17, 2015 --(
PR.com
)-- It is an interesting observation how history has painted the pirate—or buccaneer—as the bad guy. Yet, it is that very same pirate we cheer on, not as a victim deserving our sympathy, rather a free spirited adventurer, living life to its fullest. And so it will be for Captain Tom Bristol, lately of the cruel British ship the HMS Terror, where he had been press-ganged into serving. (Under the Black Ensign, www.galaxypress.com) He has now been freed and is coming to Hollywood to help celebrate the Talk Like a Pirate Day this coming Saturday, 19 September.
Perhaps Captain Bristol is here to not only tell his story, but perhaps clear up a few things about the truth of what passes as history. As researched and told by L. Ron Hubbard in his essay, "Yesterday, You May Have Been a Pirate," "History has been singularly unkind to the buccaneer. History tells us that, today, we have no buccaneers because of radio and steam navies. But history is written—rarely enacted—by men behind cluttered desks who go home each night to a roast beef dinner and a double-spring mattress. The historian has forgotten, patting his full stomach, everything except the fact that buccaneers used to scuttle ships and slit throats. The historian fiercely deplores this two-century saga of the sea, branding it with Teach, Morgan and L'Olonnais. When the historian wants to travel aboard a liner far better appointed than his own home, for all the taste of the sea he gets, he might as well have put up a few nights at a local hotel. As a matter of sober fact, if the modern steamer were less well appointed and if the crew still ate salt horse and dried peas and drank green-scummed water, we would still have buccaneers, radio and steam notwithstanding." To get the fully copy of this article sent to you, go to
http://www.Facebook.com/GalaxyPress
and like this page.
Stories from the Golden Age is a line of 80 books and multicast unabridged audiobooks containing adventure, mystery, science fiction, fantasy and western tales written by L. Ron Hubbard, one of America's most prolific and bestselling authors of the 20th century. For more information go to www.galaxypress.com.