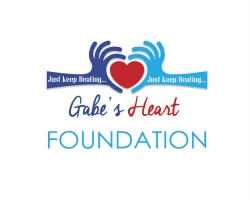 Charlotte, NC, September 23, 2015 --(
PR.com
)-- The Gabe's Heart Foundation hosts its 1st Annual 5K Walk/Run on November 21, 2015. This fun filled event will focus on eradicating "world hunger" and putting an end to "bullying." The GHF 1st Annual 5K Walk Run will be held @ zMAX Dragway, 6675 Bruton Smith Parkway, Concord, NC 28027 and will begin at 7am. This event is also in commemoration of the legacy of Gabriel Jacobs who championed such causes.
Kimberly Jacobs, co-founder of GHF and mother of Gabriel says, "My 12 year son, Gabriel Michael Jacobs, passed away in April 2015 unexpectedly and suddenly from a left Anomalous Coronary Artery. We never knew he had any issue. He was a gentle giant @ 5'10, a star athlete and anti-bullying mediator. We are having a 5k walk / run on November 21, 2015 at the zMAX Dragway in Concord, NC. Coca-Cola Bottling Company and Wells Fargo are a couple of the sponsors. Please encourage people to participate. Proceeds go to Gabe's Random Act of Kindness week (Nov. 23-30) to provide food to shelters and other organizations. We will also have an award gala next year to honor other deserving individuals that are "Doing it Gabe's Way."
According to FeedingAmerica.org, 45.3 million people (14.5 percent) were in poverty in 2013 and 49.1 million Americans lived in food insecure households, including 33.3 million adults and 15.8 million children. Pacer.org (Pacer's National Bullying Prevention Center) reports that "Nearly 1 in 3 students (27.8%) report being bullied during the school year (National Center for Educational Statistics, 2013) and "Students who experience 'bullying' are at an increased risk for depression, anxiety, sleep difficulties, and poor school adjustment (Center for Disease Control, 2012)." We must change these harsh facts.
Join Gabe's Heart Foundation on November 21, 2015 to assist in bringing awareness to these crippling issues. Let's feed the hungry, be kind to others, and help those in need. Let's celebrate those that are "Doing It Gabe's Way"! For more information, go to gabesheartfoundation.org or contact Kimberly Jacobs @ 980-275-0571.