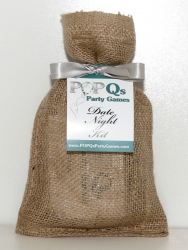 Atlanta, GA, September 23, 2015 --(
PR.com
)-- POP Qs Party Games announces something new under the sun - the opening of POPQsPartyGames.com, offering unique celebration kits designed to make gatherings of all kinds easy to organize with Decorations and Fun in One!
POP Qs Party Games turn up the action on special occasions like date night, bridal showers, and baby showers, with more party games to come. The idea was born when two creative women, a niece and her aunt, devised an ultra-cool dinner-date activity for the young woman who had met a new man she liked.
These game makers answered the question, "How do you get to know someone you've recently met in a lighthearted way?" with, what else - questions. They inserted getting-to-know-you queries like "How would you describe your sense of style?" and "What's your weirdest quirk?" into balloons, which were inflated and used as decorations. Enjoying fondue on her living room floor, the couple popped the balloons, and shared their stories. They're now married. A few years later, the party game worked the same way again for another friend!
Says POP Qs Party Games co-creator and owner SuzieQ, "With two wonderfully successful 'tests,' I knew we had a party-game idea that I could adapt to all kinds of occasions. Who can say whether the game actually influenced the result? These time-saving kits make party-planning easier. And I'm just as excited about the new party kits that will be introduced in the coming months! Let's just say a few of these 'special occasions' are not even on your radar screen."
First-customer Veronica Brown of Atlanta says "I was stumped to find age-appropriate activities for a wedding shower with an over-40 bride, and I discovered Pop Qs Wedding Shower Kit just in time. This game was fun to put together and to play--all our guests from 26 to 76 had a great time popping the balloons and answering the questions. The balloons make it festive, and the questions make it interesting. This game could easily be tailored for a group of any age. Thumbs up!"
The party game kits contain 30 12" balloons, 30 balloon clips, 25 printed questions with five blanks for the host to create additional questions, and a pearl-tipped pin for popping. Balloon colors complement the occasion. The kits retail for $25.
About POP Qs Party Games
POPQsPartyGames.com
, an online retail party games site, popped online in summer of 2015. The company develops, manufactures and sells kits that contain both balloon decorations and a party game with relevant questions for a variety of life's celebrations and special moments.