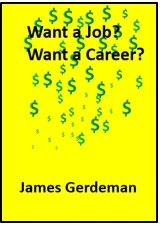 Coral Springs, FL, September 30, 2015 --(
PR.com
)-- Jobs are an important topic for most individuals. This work is a tool to understand a variety of jobs, see examples of pitfalls that can come along the way, and hear from professionals about qualities needed to be successful in their chosen work.
"Jobettes" are those jobs taken by the youth of America. Examples of these are shown for the reader to glean experience based on Jim's own in his youth. His early work from being a bagboy to a cook at a fancy restaurant, or his lawn mowing business and more are meant to stimulate ideas for jobs and offers lessons. Our youth do not work like they did in the past, so this offers insights.
Jobs taken between college years offer a unique description and show the determination it takes to forge on in a competitive environment. The sacrifices needed and the flexibility required to compete in this environment is highlighted. A trip through career decisions show the reader that there are ups and downs in life and the individual must address the issues head on.
Jobs taken by friends and others are used as examples to show some real life situations that point out the need to be watchful. It is an opportunity to gain insight in a capsule of the book. Over fifty successful individuals from all walks of life offer their hints to the good and the bad in the workplace. Read these every year to renew your own thoughts on being successful.
Link to Publication*: www.JDGerdeman.com for links to Jim and Lulu.
About The Author
Jim was educated at Bowling Green State University and earned his Industrial Engineering Degree from the University of Dayton. He is the "Middle Class American." Jim has been a systems engineer, technical manager, integration support manager, and owner of his own company. He has written books about his personal life, equal opportunity, how to stop smoking and technical subjects. He advocates diversity and the willingness to work hard to achieve. He married his wife Mary Jo 45 years ago and he is a father and grandfather.
About Lulu
Founded in 2002, Lulu is the world's fastest-growing print-on-demand marketplace. Please see www.lulu.com.
Media Contact: James Gerdeman, jdgerdeman@aol.com, Cell Phone 786-256-8902.