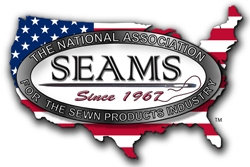 Aiken, SC, October 08, 2015 --(
PR.com
)-- SEAMS, the National Association for the U.S. Sewn Products Industry, is set to hold its National Networking Conference on October 29-31 at the Gaylord Opryland Resort and Conference Center in Nashville, Tennessee. Themed "Spurring Opportunities for Growth," the event will engage attendees through a wide range of informative presentations, interactive panel discussions, networking sessions, a local plant tour and a close-up look at Nashville's fast-growing fashion industry. The annual event attracts textile and sewn products manufacturers, brands, retailers and suppliers from across the US. Conference details and registration is available at
http://www.seams.org
.
According to SEAMS Executive Director Sarah Friedman, "We are excited to be holding our annual conference for the first time in Nashville. In addition to providing a central location for what has become an important national industry event, Nashville has quickly become one of the most dynamic growth regions for the fashion and related industries. As the opportunities for domestic textiles and sewn products companies are expanding, we have designed a program that will provide attendees with valuable strategies, relationships and other measurable takeaways that will help them to spur growth in their own businesses. We invite all industry professionals to join us in what is sure to be a rewarding business and social experience."
Highlights of the conference agenda include:
- Keynote Presentation: "Made Here – Made Possible," Keith Hoover, Vice President, Under Armour.
- Fireside Chat: Spurring Opportunities for Growth," facilitated by Will Duncan, industry executives share the opportunities and challenges they face in their commitment to Made in USA.
- "Retaining a Skilled Workforce," Jennifer Robinson, Office Managing Shareholder, Littler Law Firm.
- "Celebrating 150 Years of Milliken," Brenda Burris-Drake, Vice President, Milliken Specialty Fabrics.
- Panel Discussion: "The Role of IT in Driving Business Growth," featuring executives from Eton. Systems USA, Incentive Payroll Experts, PA Group USA, and Productive Solutions.
- "An Inside Look at the Nashville Fashion Scene," Dean Wegner, President & CEO, Omega Apparel.
- "Texprocess Americas and Supply Chain USA," Carrie Kittrell, Sales Manager, Messe Frankfurt USA.
The SEAMS National Conference will include two half-day sessions on Friday (10/30) afternoon and Saturday morning (10/31). Networking opportunities include a Welcome Reception on Thursday evening (10/29), a power lunch, evening reception, and dinner followed by entertainment provided by three top Nashville singers-songwriters on Friday. Other activity options for attendees include a tour of the new Omega Apparel plant (Thursday AM or Friday AM); and a golf outing on Thursday.
SEAMS Conference attendees will also have the opportunity to introduce their company to all attendees, meet industry-focused benefits providers, and visit a special tabletop products/services display area. Companies and individuals involved in the sewn products industries may register to attend by phoning SEAMS at +1-803-642-1111 or by downloading the registration form at http://seams.org/events/SEAMS-Fall-Networking.html.
About SEAMS
SEAMS, the National Association for the Sewn Products and Textile Industries, promotes the continued growth of the USA fashion, sewn products and textiles industries through educational programs, networking opportunities, business opportunity matchmaking, industry collaboration and special member benefits packages.
SEAMS members comprise textiles providers, contract manufacturers, brands, vertical retailers and their suppliers and service providers to collectively represent the complete concept-to-consumer supply chain. Softgoods industry executives, managers, professionals and entrepreneurs leverage their SEAMS membership to gain new business, stay informed of industry issues and trends, find solutions to productivity and operational challenges, manage costs and increase productivity. For more information, visit the website at http://www.seams.org.