SCIenergy Delivers 25% Energy Reduction to a New York City Commercial Building at No Cost to the Owner
$3.6 million project for 125 Maiden Lane will increase value and resiliency of NY office-condominium building.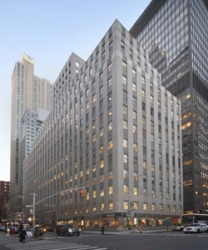 New York, NY, October 13, 2015 --(
PR.com
)--
SCIenergy
, a pioneer in optimizing buildings for energy performance, has completed the second phase of the energy retrofit for
Time Equities Inc.
, a full service real estate firm actively involved in the acquisition and management of commercial and residential properties. The enhancements made at 125 Maiden Lane, a 320,000 square foot mixed-use building near Wall Street, are designed to better protect the building and its occupants from outages like those experienced during Hurricane Sandy while simultaneously cutting both energy consumption and GHG emissions by more than 30%.
"Resiliency and emissions reductions are two enormously expensive problems facing cities like New York," said Steve Gossett Jr., CEO of SCIenergy. "We believe the key to solving this challenge lies not only with applying new technologies, it also requires significant business model innovation. Using our EnergyScape platform in concert with our Managed Energy Services (MESA) program, SCIenergy was able to convert our client's energy efficiency opportunity into a self-funding solution to a significant resiliency need."
SCIenergy also announced that Phase 1 of the 125 Maiden Lane project has, over the last 12 months, already reduced annual energy consumption by more than 25%, cutting greenhouse gas (GHG) emissions at the property by more than 609 Metric tons of CO2e - the equivalent of planting more than 490 acres of forest or removing 128 passenger vehicles from the road. In phase 2, SCIenergy replaced the existing heating systems with high efficiency natural gas boilers located higher in the building. The building is now able to withstand another storm surge event like Sandy, while also further improving on energy performance. Between the first and second phases of work, 125 Maiden Lane is expected to exceed the 30% GHG emissions reduction target for large buildings outlined in the
80% GHG reduction target
announced in New York Mayor Bill DeBlasio's OneNYC plan.
"With challenges presented by climate change, resiliency, or policy changes like New York City's 80 by 50 emissions reduction goal, we must use innovative solutions," said Rick Recny Director of Asset Management at Time Equities. "We see what SCIenergy does as a great solution to modernize buildings in a way that works for building owners and occupants, and is an important part of our toolkit for managing buildings."
About SCIenergy
Our mission is to lead the revolution to make building efficiency affordable and achievable for all. We do this through our lean, revolutionary business model and technology; offering original, straightforward solutions that deliver significant energy reductions, while improving the reliability, sustainability, and comfort of buildings.
Founded by a diverse group of seasoned, intelligent building and finance leaders, our founding team has spent their careers working towards understanding the complexities and barriers of holistic building optimization. This integrated knowledge of the market allows us to provide solutions that finally make efficiency accessible, affordable and achievable for all. More information:
www.scienergy.com
About Time Equities
Time Equities Inc. (TEI) is a full service real estate firm actively involved in the acquisition, development, conversion and management of commercial (office, retail, industrial) and residential properties throughout the U.S., Canada and Germany. For almost 50 years, TEI has found success in both bull and bear real estate markets. Our disciplined investment strategy focuses on staying ahead of the curve. In addition to space for lease or purchase, a number of TEI's professional services are available to third parties. Learn more about TEI's philosophy, portfolio, departments, people and partners at our
website
.
Contact
SCIenergy, Inc.
J. Brian Ratcliff
972-386-5335
scienergy.com
Alternatively, call agency - Amy King amy@nestedstrategies.com

Contact