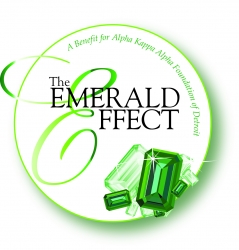 Detroit, MI, October 15, 2015 --(
PR.com
)-- The Alpha Kappa Alpha Foundation of Detroit (AKAFD) will bedazzle party-goers as it transforms the newly renovated Shed 5 at the Eastern Market with The Emerald Effect - a benefit for its jewel load of community service programs on November 6, 2015. From 7 p.m. until midnight, guests will experience an enchanting evening of festivities featuring a strolling buffet, live entertainment, a DJ, dancing, a photo booth, silent auction, cash bar and a surprise performance by Foluke-Jeffrey & The Artists. General admission is $75 and VIP is $125, which includes access to the VIP lounge, a complimentary bar, a swag bag, and a raffle ticket for an exotic trip. This event is made possible with support from the following corporations and community organizations: Harold and Carolyn Robison Foundation, People Driven Credit Union, PNC Bank, Talmer Bank and Trust, and UAW-Ford. Media partners include: Ambassador, B.L.A.C. Detroit, and The Michigan Chronicle.
In offering this exciting event, AKAFD, which is the non-profit arm of Alpha Kappa Alpha Sorority, Inc., Alpha Rho Omega Chapter, seeks to raise funds to sustain and expand a wealth of community service programs that benefit a wide range of people in the Detroit area from children to teens to seniors. Signature programs include AKA Teens (mentors and trains young ladies); Selected Citizens (enhances quality of life for senior citizens); A.S.C.E.N.D. (provides academic enrichment and life skills training for high school students); One Million Backpacks (distributes backpacks and supplies to elementary school children); and the 1908 Playground Project (renews and restores community or school parks) to name a few.
"We treat each of our programs like precious jewels that we are giving to the Detroit community with the hope of enriching each of the lives we touch. Whether providing something tangible like a backpack or food or invaluable gifts of mentoring, tutoring or fellowship, our goal is to make each person and the community as a whole richer," said Stacey A. Travis, President. "When we are serving successfully, we like to think of it as the 'emerald effect.' The smiles and expressions of gratitude combined with our immense joy in giving creates a warm, living and green-ful energy as rich as the jewel's name and that is the same atmosphere we are bringing to life with this event."
The fun-filled festivities of The Emerald Effect are numerous featuring eclectic libations, electrifying music by DJ Virgil Mingas, epicurean delights by the Catering Society, Inc., and mouthwatering desserts by Sweet Potato Sensations. A trip raffle is a special highlight for VIP ticket holders who will receive one (1) entry into a drawing for a one-week stay at a luxury resort in the Caribbean or Mexico and coach airfare for two (2) on Delta Airlines. Guests will also have the opportunity to bid on an exquisite collection of items in luscious shades of green by artists from near and afar. Elegant attire is appropriate for the evening's evocative emerald setting created by Melinda Anderson, proprietor of Meme Design and events manager for the Detroit Design Festival. Men are encouraged to wear a green tie, pocket square or handkerchief to receive one (1) complimentary drink ticket at the door. For more information or to purchase tickets, visit www.TheEmeraldEffect.eventbrite.com or call Raymell Tyler at 313.986.1834 or email TheEmeraldEffect@gmail.com.
Established in 1991 to provide service to the community, AKAFD is a voluntary organization that promotes lifelong education, positive health practices, community involvement, and encourages professional and personal growth. In addition to the aforementioned programs, it supports the Festival of Trees to fund pediatric research at Children's Hospital of Michigan; co-sponsors the Gift of Life-Minority Organ Tissue Transplant Education Program Walk/Run; provides dinner on a monthly basis to families residing in the Ronald McDonald House while their children are being treated in the Children's Hospital of Michigan; annually awards a four-year scholarship to a deserving young woman to attend the college or university of her choice; and presents a broad array of financial literacy programs to the community at large. Donations should be made payable to Alpha Kappa Alpha Foundation of Detroit and sent to Post Office Box 44586, Detroit, MI 48244.
Media Note: For more information, to schedule an interview or request a media pass, please contact Desirnai' Hicks at 313.729.7600 or email tdhicks2@gmail.com.