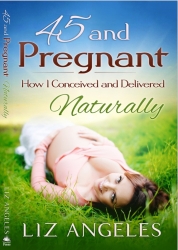 Los Angeles, CA, October 22, 2015 --(
PR.com
)-- "45 and Pregnant - How I Conceived and Delivered Naturally"
In her new book, Liz Angeles shares her journey of becoming pregnant and having a natural water birth at age 45.
Those who believe that it could be too late in life to conceive a child or that it is too dangerous to have a peaceful home birth, should read the personal story of Liz Angeles, who suddenly became pregnant for the first time at age 44 and delivered naturally at age 45.
In her new book, Owner of BLIZFUL (Wellness Coaching and Healing Artistry), Liz Angeles shares the journey of her pregnancy. The self-proclaimed wimp always believed that she would ask for epidural during the birth of her first child and she surprised herself when she discovered that her inherent feminine strength would allow her to have a natural water birth at home, without any drugs or interventions.
"When it comes to pain or stress, I am as hyper-sensitive as they come," explains Angeles. "If I can deliver a baby at home without any drugs, you can too. If that is your desire, it starts with educating yourself, cultivating the right mindset and above all else, believing in your God-given feminine power."
Her book 45 and Pregnant is a comical and personal memoir that takes readers on a venture from terror to triumph, beginning with a single woman pondering spinsterhood and ending victoriously with a healthy child. The book contains a plethora of valuable information for mothers-to-be of any age, and for those considering a natural birth, home birth or water birth.
The 222-page book 45 and Pregnant is currently available as a free download on Amazon.com for this week only. To find out more information about the book, visit 45andPregnant.com. To contact BLIZFUL owner and Author, Liz Angeles for an interview, email her directly at liz@45andpregnant.com.