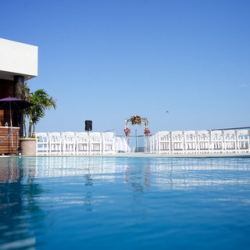 Long Island, NY, October 23, 2015 --(
PR.com
)-- MAD-Marketing and the Allegria Hotel announced today that the Wedding QuickQuote application is now being featured on the hotel's website. Using the industry's first online "Instant Response" inquiry platform will expedite the response and communication process between a customers and our staff.
Rosanna Herrera, Allegria Hotel's Marketing Manager had been searching for an online format that would best serve today's customer in their search for a wedding venue. "We opted to include Wedding QuickQuote on our site because the majority of our clients are busy working people who do their research on the web. Providing an application that allows a user to select various options and receive a customized, tentative proposal within seconds, demonstrates our commitment to service and trust," said Ms. Herrera.
"Our catering team has always strived for the highest level of service and creativity," said, Peter Pizarro. Director of Catering. "Our success is built on the personal relationship we build with each client. With the Wedding QuickQuote our office is now equipped to provide an immediate response at any time. The pick-and-click format displays our wedding packages and amenities. Fun to use, this new service ignites the bride's imagination and allows her to plan her own special day, and receive an immediate response."
"I never met a bride or wedding planner that didn't want an answer yesterday," said Madeline Daryadel, creator of Wedding QuickQuote and former Director of Social Catering at the Bonaventure Resort in Fort Lauderdale. "We saw a need, millennials don't like waiting and with Wedding QuickQuote a reply to date availability is immediate, and an estimated cost is presented within seconds. Now a wedding can be planned online and the user will receive, instantaneously, a personal, tentative proposal based on the hotel's customized selection of menus and amenities."
About Allegria Hotel
The Allegria Hotel, Long Island's only luxury oceanfront hotel, featuring floor-to-ceiling windows overlooking the iconic Long Beach Boardwalk and Atlantic Ocean, a rooftop pool, restaurant and lounge with entertainment. The 143-room hotel is located eleven miles from John F. Kennedy International Airport, close to The Hamptons and an easy drive into Manhattan. A roof top wedding overlooking the Atlantic followed by a gala reception in the Allegria Hotel ballroom will provide memories to last a lifetime. Your guests will enjoy the easy-going atmosphere of an exclusive beach club. Visit our Wedding page to get a QuickQuote.
About Wedding QuickQuote
A division of MAD Marketing and a dedicated partner of the hospitality industry. Originally founded under MADSearch in early 2000, the company is always a step-ahead and is known for it's innovative solutions. Wedding QuickQuote, now featured on numerous social venues is offering a "Try before you Buy"
Free 90 Day Trial.