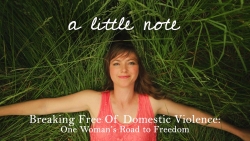 Bethesda, MD, October 27, 2015 --(
PR.com
)-- The opening scenes of the video show a young woman applying makeup to cover bruises on her face. She gathers her courage and begins to compose a little note telling her abuser goodbye. This decision leads her to pack her suitcase and finally escape.
According to The National Coalition Against Domestic Violence, 1 in 3 women and 1 in 4 men will be victims of physical violence by an intimate partner within their lifetime.
"My wish is that victims of abuse will identify with the woman in the video as she finds the inner determination to break free," Baron said. "The way out is never easy, but there are organizations such as the National Domestic Abuse Hotline working 24/7 to help victims plan safe exit strategies."
Baron feels heartened by the positive response to her video. "I just did exactly this. Drove away to escape the abuse. I love your song. She's me," one viewer wrote.
The five minute music video, produced by Interdependent Pictures, was partially funding through an Indiegogo campaign, with major support from In Honor of Her and The American Association of University Women. The sound track produced by Marco Delmar of Recording Arts, received a 2014 Song of The Year, Washington Area Music Award (Wammie Award).
Baron wants to share the video nationally through media outlets in order to help break the silence around domestic violence. The video can be streamed from YouTube and aired on local news shows. Laura Baron is available for interviews and feature stories. Watch "A Little Note" on YouTube:
http://bit.ly/ALittleNote-video
About Laura Baron
Laura Baron is considered one of the premiere singer songwriters in the DC area. In 2014, she received three Wammie Awards including Contemporary Folk Vocalist and Contemporary Folk Recording "Heart of the Great Unknown." Notable performances include appearances at Bethesda Blues and Jazz, The Hamilton and Blues Alley. To learn more please go to
http://www.LauraBaronMusic.com
. Email Laura at laura@laurabaronmusic.com.
Laura's Indiegogo Campaign: http://igg.me/at/aLittleNote
Michael O. Snyder, filmmaker: InterdependentPictures.org
Marco Delmar, audio producer: RecordArts.com
In Honor of Her: InHonorOfHer.org
The American Association of University Women: AAUW.org
The National Coalition Against Domestic Violence: NCADV.org
National Domestic Abuse Hotline: TheHotline.org