Sharanya Mukhopadhyay is Crowned "Miss South Asia 2008" and Ridhi Patel Grabs the Coveted Title "Miss India America 2008"
Babu Subramaniam (ER Director), Tina Sugandh (Singer) and Janina Gavankar (Actress in Showtime's L Word) were some of the many celebrities at Jinder's 17th Annual pageant Mr./Miss/Mrs. South Asia® 2008, a star-studded Red Carpet gala which took place on November 16th on the prestigious ship Queen Mary in Long Beach, California. Sahara One Television aired the event on Sahara One TV in USA, Canada, UK and 22 other countries in Europe.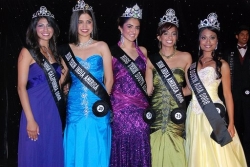 Long Beach, CA, December 13, 2007 --(
PR.com
)-- Everyone witnessed a star-studded Red Carpet gala here onboard the prestigious ship Queen Mary, as the who's who of South Asians in Hollywood and world beauty queens were seen greeting fans, posing for pictures, and participating in interviews. This was no ordinary night - it was Jinder's 17th Annual pageant with all the glitz, class, and glamour that is always associated with her special events.
Sahara One Television and South Asia magazine both presented the event, with co-presenters JINmodels.com and Subhash Ghai's Whistling Woods International in Mumbai. On the red carpet, Hrithik Roshan was revealed as the cover guy for the highly anticipated celebrity magazine South Asia magazine, which had an exclusive interview with the Bollywood actor. On the red carpet, guests were seen posing next to and kissing the blown up version of the magazine's premiere issue.
After the red carpet, the guests were treated to delicious appetizers and a lavish dinner by Rupee Room. The show started with a bang as Yogen Bhagat and his talented dance troupe Bollywood Step Dance brought the house down with his Bollywood style opening.
Jinder K. Chohan, Executive Producer & Creator of Mr./Miss/Mrs. South Asia, Mr./Miss/Mrs. India America & Mr./Miss/Mrs. India California, stated, "Our company has built a strong reputation around the world in our successful 17 years in business, as we proudly represent India in many world pageants, such as Miss Galaxy, Miss Asia, Mrs. Globe, Mrs. Galaxy, Beauty of the World, and Mr. International."
Jinder also mentioned, "We had our star-studded red carpet again for its second year, and the new addition this year was our celebrity magazine, South Asia magazine, where we have exclusive interviews with Subhash Ghai, Hrithik Roshan, Ashok Amritraj, Supermodel Saira Mohan and many other celebrities. For more information on our magazine, log on: SouthAsiaMagazine.com."
The Mistress of Ceremonies was the very talented BMG Sony singer Tina "Tabla Girl" Sugandh. Also sharing the emceeing was Sasha Hoffman-Miss India Globe 2007, Rochelle Kumar-Beauty of India 2007, and Medha Rishi-Miss India Galaxy 2007. The show was expertly directed by Revi Chohan. The night kept getting better and better as the 45 contestants were revealed to the audience. There were contestants from all over America, even from Canada, UK, India and South Africa. After everyone participated in traditional wear ramp walks, the talent segment started for the Miss South Asia, Miss India America and Miss India California categories. Divneet Wadhwa definitely wowed everyone with her Tae Kwon Do talent, complete with breaking wooden boards held by her parents. Other talents to note were dances by Sharanya Mukhopadhyay, Niki Desai, Archana Nair, Gunjan Nanda, Ridhi Patel and a beautiful song sung by Nisha Garimalla dedicated to Lord Krishna.
Elegantly and stylishly dressed in tuxedos and formal gowns, all the contestants were featured in the last round of the competition. Before the finalists were announced, R&B singer Ranjini from New York took center stage and sang her chartbuster "No Matter." The top eleven finalists were: Niki Desai, Justine Dharni, Nisha Garimalla, Shahziya Khan, Navjot Mann, Sharanya Mukhopadhyay, Archana Nair, Gunjan Nanda, Hatel Patel, Ridhi Patel and Divneet Wadhwa. All the finalists were asked questions.
Judges this year were: Babu Sabramaniam - Director of NBC's Hit Series ER, Gitika Ahuja - Producer at ABC's Good Morning America, Alpita Patel - Hollywood Manager & Producer, Javina Gavinkar - Hollywood Actress in Showtime's L Word, Zachary Coffin-Producer of Bhopal Movie w/ Aishwarya Rai (which she is also the executive producer), Kavi Ladnier - Hollywood Actress (Heroes, Las Vegas, Law & Order), Shazia Deen - Model, Actress & seen in Justin Timberlake "Senorita" music video, Thomas Tevana - Hollywood Actor in JAG, One Life To Live...Bollywood's 'Jo Bole So Nihaal', Danny Pudi - Hollywood Actor in Greek, Gilmore Girls, ER, West Wing, Aalok Mehta - Actor "American Chai", Broadway's Bombay Dreams, Anisha Nagaraja - Lead in Broadway's Bombay Dreams, Ranjini - R&B Singer From New York, Amita Balla - Actress & Producer of "Screw Cupid", Rizwan Manji – Actor in 'Transformers' , Quincy Patrick - Grammy Award, Multi-Platinum Producer/Songwriter for Usher, Alicia Keys, Babyface and Shaheen Sheikh - Pop Singer.
The winners of JINmodels.com Miss Photogenic went to Justine Dharni, Mr. Photogenic went to Vikas Mehandroo, while Mrs. Photogenic was announced as Ritu Chopra. The online voting at SpiritOfIndia.com for Sahara One People's Choice was: Miss Mitali Saxena, Mr. Abhi Kommareddy and Dr. Seema Arora.
This year there were 12 dazzling married women fighting for the top spots, in which three were even doctors, and for the first time the pageant had a mother in the Mrs. Category and a daughter competing in the Miss category. Ritu Chopra took the Mrs. South Asia 2008 title, as Roopali Sharma of Utah won Mrs. India America 2008, and Mrs. India California 2008 was Priya Khandelal.
Winners in the tough male competition were announced as Milan Rao, 17, grabbing the top spot as Mr. South Asia 2008, Abhi Kommareddy, 18, won the popular title Mr. India America 2008 and Vikram Singh, 22, took home Jinder's oldest title Mr. India California 2008.
The main pageant was the women's competition where Sharanya Mukhopadhyay ,20, was named with the world title Miss South Asia 2008, Divneet Wadhwa, 15, Miss Teen South Asia 2008, Ridhi Patel, 21, won the coveted title Miss India America 2008, Archana Nair, 17 of Minnesota, was named Miss Teen India America 2008 and Niki Desai, 19, won the title Miss India California 2008.
The evening was about promoting the Jagriti organization, founded by Kamlesh Chauhan, which is dedicated to empowering South Asian women and youth. Sahara One Television aired the pageant in USA, Canada, UK and 22 other countries in Europe. For special appearances by pageant winners, contact Jinder K. Chohan. The evening ended with an energized celebration launch party for South Asia Magazine at Club Mumbai "The Hot Spot", featuring DJ Sandeep Kumar and DJ Malik.
Applications for Mr./Miss/Mrs. Sout Asia® are accepted from all South Asian descents (including those from South East Asia & South West Asia countries). Log on: SpiritOfIndia.com for more information on Jinder's upcoming events.
Some of the exciting prizes this year included over $6,000 in cash scholarships, screen tests by Bollywood Showman Subhash Ghai, TV Hosts auditions with Sahara One Television, cruises on Masala Cruises, photo spread in South Asia magazine, and contract with JINmodels.com.
###
Contact
Spirit Of India
Jinder K. Chohan
310-994-9500
www.SpiritOfIndia.com

Contact