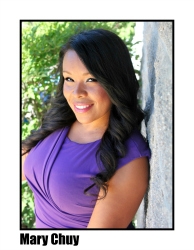 Chicago, IL, October 30, 2015 --(
PR.com
)-- The comprehensive global production company MainStream Media Ent., Inc. has named Mary Chuy Avalos for the position of Director of Creative Relations.
"As our new Director of Creative Relations, Mary Chuy supports our sponsorship initiative for our film & television properties," said CEO and Founder Zandra Rivera.
Main Stream Media Ent., Inc. specializes in integrating 'American Latino' cultural content into digital experiences for the most powerful U.S. consumer: American Latinos. Avalos came to meet Zandra Rivera and MainStream Media Ent., Inc. during an interview. The multi-­‐talented Avalos is also an actress and during the interview, the company's CEO took notice.
"I'm excited about my new role," said Mary Chuy. "I love working in entertainment whether it's in front or behind the camera. I'm proud of the tremendous moves MainStream Media Ent., Inc. is creating in paving the way for a new type of programming focused on inspiring the self and others. I feel honored to be working with such an amazing team!"
With partnerships in Chicago, Los Angeles, New York, Miami, D.C. and Germany, MainStream Media Ent. Inc., was the casting company for Latino talent and one of the producers for the Chicago-­‐based TV pilot The Blexicans, directed by Bill Duke.
The next big project is the Celia Cruz biopic Azucar based on Eduardo Marceles book, "Azcuar! The Celia Cruz unauthorized biography." Azucar, is a co-production between DVC Media and Main Stream Media Ent., Inc.
"High on our wish list is Zoe Zaldana, Antonio Banderas, Marc Anthony and John Leguizano with Guillermo Arriaga to direct." Azucar will start filming in Fall 2016 in Miami, NY, Columbia, Dominican Republic and "hopefully, Cuba," smiled Ms. Avalos. While in the development stage, signed on are: Victor Daniel (Grammy Winner for "La Vida es un Carnaval") is signed on as music producer and Collin Vaines (Gangs of NY/Cold Mountain) as a producer.
Main Stream Media is also developing several TV series (Green TV, Sabores, RockStar Reality). Also in TV development are N.O. Inmigrantes and the web series Making Sex.
"At my core, I'm inspired to help Latino talent, in front and behind the camera. In my new position, I will be able to accomplish this while simultaneously developing my own ideas as an actress/producer. CEO, Zandra Rivera is very supportive and I'm very grateful for this opportunity," said Mary Chuy.
MainStream Media Ent., Inc. utilizes its strong global network to focus on three key areas: Entertainment Industry, Corporate Sector, and Education and Informational. "We are 35 years of combined expertise in these target areas," stated Rivera.
To learn more about MainSteamMedia visit:
http://mainstreammediaent.com/about-­‐us/
About Mary Chuy Avalos
She is the new Director of Creative Relations for MainStream Media Ent., Inc. She is also an Actress/TV Host/TV Producer and through the years has also assisted casting and public relations. As an actress she has worked in Telenovelas and national PSA's for Telemundo and Univision. Her work in front and behind the camera includes working with some of the biggest names in the Latino entertainment such us Cristina Saralegui, Don Francisco and actor Cristian de la Fuente for his film Driven. Mary Chuy also hosted the morning show Hoy Wisconsin for Mundo Fox. And, most recently, she collaborated with Latin Heat Magazine, Latin Heat Media Institute working on various entertainment projects. She also worked with Hollywood top PR agency Always Evolving PR.
Media Contact:
Elia Esparza, Always Evolving PR | Los Angeles Office 323.501.3717 | Email eliawriter@gmail.com
www.alwaysevolvingpr.com
About Always Evolving PR
Always Evolving PR is a Latina-­‐owned and operated public relations firm that is passionate about everything related to popular culture, entertainment, political and social causes. We specialize in talent, film, TV, music, events, sponsorships & promotions, brand communications & strategy, content creation & distribution, influencer marketing & outreach, digital & social media, corporate & crisis management. www.alwaysevolvingpr.com