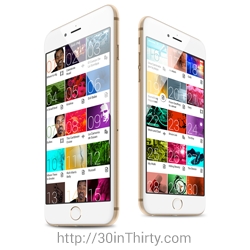 Los Angeles, CA, November 04, 2015 --(
PR.com
)-- The lead designer for Hilton Worldwide HHonors Android app and founder of Caribbean Commerce Magazine/Media, Anthony Phills, has published his first book called 30 In Thirty: Volume 1 Short Stories.
Phills' 30 in Thirty downloadable app will deliver one short story a day for 30 days on the iPhone and Android platforms starting Nov. 2015. He has brought in great actors to read and bring to life his spin on mobile short stories. Cyrus Farmer known for his work in CSI, Notorious, The Wire, Oz and Mela Lee, known for her work on Power, Pirates of the Caribbean, House of Lies and Gotham bring six of the short stories to life on video.
Added to the mix is a little Caribbean flavor with Ashanna Arthur, who was Trinidad & Tobago's representative to Miss World 2009, reads four of the audio shorts and brings the authentic island voice to accent the stories. Award winning sound engineer Navid Lancaster composed original music and edited sound to accentuate the stories and gives the readers an amazing audio experience while interacting with 30 In Thirty on their mobile device.
"I'm rethinking how to curate content and deliver it to users on mobile devices." – Anthony Phills
The short stories are current and thought provoking. The first story is Where To Dig a Marcus Garvey Tale told by Cyrus Farmer. The 21st story, Mela Lee tells about Gary, which has a spin on Bill Cosby. Mom and Dad is the 22nd story with a reverse Caitlyn Jenner view told by Ashanna. The 30 days close out with Sukunia Hill's, homage to Vincent Price and Alfred Hitchcock. Included in the 30 short stories are four Spanish stories adapted by Belén Frascaroli from Argentina, making this a truly international production.
30 In Thirty (30 Stories in 30 Days) is the first material design published book in the mobile market that incorporates this new style of design Google has been rolling out in their applications. Phills' first published book has embraced the elements of bold colors; imagery and typography coupled with audio and video, and delivers to readers an elegant material design book experience.
http://30inThirty.com
or TEXT 30in30 to 95577