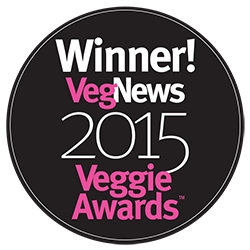 Chicago, IL, November 04, 2015 --(
PR.com
)-- VegNews, America's premier vegetarian lifestyle magazine, announces Native Foods Cafe as the 2015 Veggie Award™ Winner for Favorite Vegan Chain. With 60,000 readers voting for their favorite people, places, and products in 45 categories, this annual survey is the largest of its kind in the world. The awards showcase the best of plant-based living in categories ranging from cheese, ice cream, and restaurant to celebrity, website, and even most veg-friendly city. This year, a record-breaking 1.3 million votes were cast in the 14th annual Veggie Awards™.
"Native Foods Café is a leader in the vegetarian restaurant industry and continues to develop stellar plant-based food. We are pleased to honor its accomplishments with a 2015 Veggie Award," says VegNews Publisher Colleen Holland.
Founded in 1994, Native Foods Café is the country's premier fast-casual vegan restaurant group, with locations nationwide. Its seasonally updated menu is 100% plant based and focuses on chef-crafted food and beverages.
"We're so proud to be recognized by VegNews readers," said Craig Grimes, Native Foods Café CEO. "This award really belongs to our dedicated teammates who work in our restaurants every day making sure our guests are served delicious food in a friendly and welcoming atmosphere."
The VegNews Veggie Awards recognize excellence in the vegetarian industry. VegNews readers submit their ballots online during the month of August, and winners are announced in the November+December Holiday edition of the magazine. The annual celebration of the best that veg living has to offer has become the most popular feature in the publication. The issue ships to subscribers on October 21 and will be available on newsstands everywhere November 3.
About Native Foods Café
At Native Foods Café, we're committed to making the world better for our teammates, our guests, and our communities. For more than 20 years, we've been delighting guests with delicious chef-crafted food, refreshing beverages, and decadent desserts. Native Foods Café pioneered compassionate eating and earth-friendly practices, and we remain true to our mission today in our sustainable fast-casual restaurants nationwide. We embrace cultural, ethnic, and food-choice diversity and we invite everyone to come through our doors, sit at our table, and experience what makes Native Foods Café truly special. Visit
nativefoods.com
for more information.
About VegNews
VegNews, America's premier vegetarian lifestyle magazine, has a readership of 240,000 and is read around the world. Each issue is filled with the latest in news, tantalizing recipes, nutrition updates, hot new veg products, must-read books, celebrity interviews, and even vegetarian weddings. The magazine has won dozens of national awards since beginning publication in 2000.