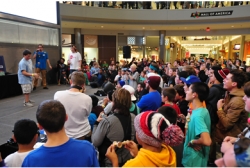 Bloomington, MN, November 06, 2015 --(
PR.com
)-- Sweets Kendamas' 2015 Minnesota Kendama Open
Largest Kendama Competition in Western Hemisphere with Pros from Around the World
Who: All
What: Global Kendama Competition
Where: Day 1 Preliminaries/Kendama Fair – Hilton MSP/MOA (3800 American Blvd. E)
Day 2 Finals/Freestyle Comp/Kendama World Cup Showcase – Mall of America Rotunda
When: Day 1, November 14, 2015 from 9:00 AM (Registration) to 4:00 PM
Day 2, November 15, 2015 from 11:00 AM to 6:00 PM
Kendama, an ancient wooden cup-and-ball game, re-invigorated within the last seven years in the United States, unites Eastern and Western Hemispheres of the World in global play. Sweets Kendamas is pleased to present the Sweets Kendamas' 2015 Minnesota Kendama Open, made possible by Glacial Wood, maker of the Homegrown Kendama. The 2015 MKO is the largest Kendama Event in the Western Hemisphere, featuring Pro Kendama Players from around the globe competing head-to-head and against local players in Beginner, Intermediate, and Open (Advanced) Brackets. Grand Prize for the Open Bracket will be $3,000 + a trip to the 2016 Kendama World Cup in Hatsukaichi, Japan. Pro Players from Japan, Denmark, Romania, France, Canada, and the U.S. will compete in the Open Bracket and sign autographs both days.
Sweets Kendamas expects double the number of participants and spectators, making the event broaden to two days. Registration must be completed prior to/at the Day 1 Event. Pre-Registration is available at discounted rates online at www.SweetsKendamas.com.
Beginner and Intermediate Brackets $10 Pre-Registration/$20 at the Door
Open Bracket $40 Pre-Registration/$50 at the Door
Spectators are free
The Event will be Livestreamed from the Mall of America for the Open Bracket Finals, KWC Showcase and the Freestyle Competition.
TV Japan will be onsite during the Event to videotape the story of the MKO and broadcast the Event.
About Sweets Kendamas, LLC
Sweets Kendamas exists to "Spread Kendama Love." Kendama – the Japanese wooden toy over 100 years old – has grown into a hand-eye coordination super toy, creating trends across the globe. Sweets brings its own unique level of craftsmanship and artistry into the creation of some of the best-playing, most durable, and most beautiful kendamas. Matt "Sweets" Jorgenson, Founder/President, said, "The MKO is our way of sharing the world of kendama at its best with everyone." A portion of the 2015 MKO entry fees will help plant trees through The Arbor Day Foundation to sustain the Earth's future. To learn more about the competition, visit www.sweetskendamas.com, Facebook, Twitter or Instagram or call 952-322-7075.