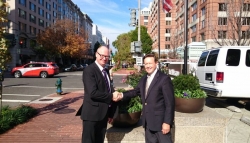 Tysons Corner, DC, November 14, 2015 --(
PR.com
)-- The most important challenge facing organizations today is the ability to accelerate the capability and capacity for sustained innovation. The United States understands this and, true to the concepts of Innovation itself, adopts best practices and technologies from around the world. This happened recently in Washington DC with the opening of the offices of the Innovation 360 group with their leading-edge Innovation Survey software which is backed by Artificial Intelligence-like features and a Global database. In a recent ceremony, echoing recent pronouncements from global leaders in business and government, Mr. Magnus Penker, CEO of the Innovation 360 Group, Stockhom, Sweden, stated, "The future belongs to the Innovators." He went on to say that the key to sustained innovation is the ability to quickly and accurately capture ideas – the intellectual assets of the organization – and then systematically execute on those which drive corporate value.
Hiring for the office, located in the Uber-Office facility in Tysons, has begun with the announcement that Rick Pfautz, former Air Force Officer and Business Development Executive, will lead the expansion. "Rick's experience in US Government and Industry, complemented by his Project Management (PMP) background and success as a National Sales Leader for a Fortune 500, will help drive the growth we anticipate," said Jens Nilsson, International Director, from Stockholm.
Several highly-qualified US-based consultants with diverse backgrounds are in conversation with Innovation360Group executives already. Consultants are urged to investigate certification in the technology as an extension to their present offerings. Certification classes are starting in January 2016 culminating in the first US-based training in March 2016 in Washington DC. Earlier classes are available at the Stockholm, Sweden corporate offices.
Information in the US is available at 800-871-1477 or from Rick.Pfautz@Innovation360group.com.