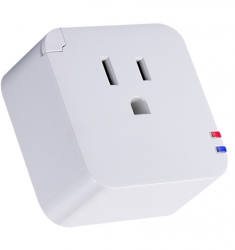 San Diego, CA, November 19, 2015 --(
PR.com
)-- Almost all of us have been annoyed by going through the process of unplugging a WiFi router to reset power and get your WiFi Internet working again. That ritual will soon be a thing of the past. The new Reset Plug from MultiNet does this for you automatically. It's a smart plug that you plug all of your WiFi equipment into. If it detects an outage of the WiFi, it automatically resets power to your WiFi equipment.
Simply plug your WiFi router and your modem into the Reset Plug. The smart plug will act as a WiFi client to test the Internet connection. If the Internet fails to work, the Reset Plug will cycle power to the WiFi equipment to reset the Internet connection. If the Internet is still out, it will continue to cycle power every five minutes until the Internet is restored.
The Reset Plug works with any WiFi router, any WiFi access point, and any broadband modem (cable modem, DSL modem, fiber modem). If your router, access point, and broadband modem are all separate, plug them all into a power strip, then plug the power strip into the Reset Plug. This will monitor all three separate devices with one Reset Plug. It also works with any all-in-one combination device (Router/Modem/AP) that most Internet service providers give out as the default wireless router.
Imagine you are away from your house and go to check your security camera or WiFi thermostat, but you are unable to access either of the IoT devices. So you call your ISP, and the first thing they ask you to do is reset power to your broadband modem and your WiFi router. Without a family member at home to reset power, your ISP cannot do much in the way of tech support to help you get your IoT devices connected back to the Internet. And if you use a third party WiFi Router that your ISP did not provide you with, then the ISP would not be able to let you know what's going on at all. The Reset Plug gives you the security to know your WiFi is working no matter where you are in the world.
Do you have devices that depend on your WiFi to be working?
Security cameras
Thermostat
Smart appliances
Carbon monoxide detectors
Smart TV/DVR/media player
Remote computers
Sensors
Smart lighting
File servers
Other IoT devices
Keep your devices connected with a Reset Plug monitoring your WiFi.
Pricing and availability: The Reset Plug is $99.99 and is available now at
ResetPlug.com
About MultiNet: MultiNet is dedicated to proactive and innovative IoT devices that give network users a better network experience. For more information visit www.multinet.io