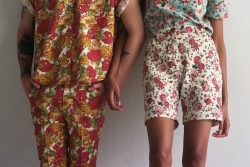 Bali, Indonesia, December 15, 2015 --(
PR.com
)-- Bali-based, the multilingual Australian (born to Moroccan and Venezuelan parents) has spent his entire life travelling. Very much a mongrel by birth, no one culture has defined Derhy. This inherent thirst for exploration has seen him experience jobs and lifestyles that range from the beautiful to the bizarre, and downright exhausting (Derhy once circumnavigated the entire island of Phuket on a stand up paddle board for 90 miles over 4 days, to raise funds for underprivileged kids in Phuket).
After leaving Australia at age 23, he was stuck in Mallorca, desperately looking for a way to generate enough income to continue his adventure, when he crossed paths with a half German/Moroccan woman who promised to solve his financial woes by introducing him to an industry he had never heard of. In a playground of the rich and famous he found his financial feet, continuing to travel the globe working aboard multimillion-dollar luxury yachts. Derhy was living the high life, though it was one lacking privacy and space to think, or the ability to escape his white uniform and express his unique self.
When Derhy was offered a much coveted promotion, he went to celebrate this achievement with the crew at a high end spot in Juan Le Pain on the French Riviera. After arriving at the beachside resort Derhy, in his signature exuberance, ran down the beach and dove into the water. The result was a broken neck (C1 burst fracture in four pieces + shattering C5) that would result in months of painstaking rehabilitation as Derhy learned to walk, and live, again.
He refers to it as a "control + alt + delete" kind of moment, where he not only had to rehabilitate physically, but also reevaluate his purpose in life. Many months of healing included dark nights and quiet days where everything he'd cherished in life suddenly came into question.
This search saw him travel to South America, deep into the Amazon rainforest where he was fortunate to spend time with the Shamans of the Shipibo-Conibo tribe, an indigenous people along the Ucayali River of Peru. Experiencing the way they live in the 21st century while still honouring ancient traditions, was a far cry from sipping rosé in the Riviera.
These majestic people changed his life by introducing him to Ayahuasca, their ancient medicine, which allowed him to have an almost immediate spiritual revelation regarding his purpose on earth, the true nature of the universe around him as well as deep insight into how to be the best person he possibly can.
Exposed to the magically artisan ways and colourful geometric textiles of these ancient people convinced Derhy that he had something to learn from cultures who expressed themselves so visually, and vibrantly. With a new appreciation for the fleeting, delicate nature of life, Derhy thought of the fledgling fashion label he'd dreamed of years earlier. Suddenly his creative whim felt desperately urgent.
Without training, or a great deal of planning, Derhy sunk his entire life savings in Mr. Prints. As Derhy explains, "When I went and 'worked for the man' this need to express myself as different to everyone around me grew impossible to ignore. Then just when I thought I'd obtained everything I wanted, it crumbled before me. I went into the jungle lost, and emerged as an eccentric fashion designer. Soon, friends started asking if I would make them versions of the stuff I was wearing.
"As the name suggests, Mr Prints is all about prints, but on a deeper level it's about embracing the complexity, colour and abundance of life, in a very visual way. From memory, the name chose me. I've always worn prints and it became a kind of moniker that followed me around. That, and the fact that 'Mr. Psychedelic Vomit' just didn't have the same appeal."
Mr Prints is dedicated to delivering the unusual, the baffling, and often amusing, pulled into cohesion via laser sharp tailoring. Almost every piece is a one-off, never to be seen again. Derhy goes straight to the source by visiting each artisan printer to ensure that all natural fibers and materials are used in each of these unique creations. The craftsmen on the Mr Prints team are third generation professionals who were born into their trade. All apparel and accessories found at Mr Prints are handmade in Bali, Indonesia, with care and precision.
Despite its unorthodox beginnings, Mr Prints continues to attract a growing fanbase of those looking for threads with a story, and sustainable beginnings. Says Derhy, "Life is too short to be ordinary. We're here one day and gone tomorrow, so why not stand out from the crowd?"
Lovers of prints can find an enthralling selection of unique walking artworks at Mr Prints, including printed dresses, one-pieces, bow ties, printed tops, and more in wildly colorful and vivid designs. More information is available at
http://www.mrprints.co