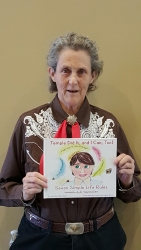 Arlington, TX, November 26, 2015 --(
PR.com
)-- Sensory World is pleased to announce that two Temple Grandin Books have been honored with a 2015 Academics' Choice Smart Book Award, a prestigious seal of educational quality, reserved only for the best mind-building books. Both Temple Talks about Autism and Sensory Issues, a pocket guide authored by Temple, and Temple Did It, and I Can, Too!, were esteemed recipients.
Dr. Temple Grandin, is the subject of the award winning HBO biopic, Temple Grandin, and the recipient of Time magazine's 2010 "100 Most Influential People" issue. Temple has been recognized for her leadership role as an author, visionary, and speaker in the fields of autism and animal science, in which she is an advocate of the humane treatment and understanding of both.
The independent Academics' Choice Awards program and its seal of excellence are recognized worldwide by consumers and educational institutions as a mark of genuinely effective learning tools that stimulate the mind, and provide potential for the student to fully develop higher order thinking skills. The Academics' Choice Advisory Board consists of leading thinkers and graduates from Princeton, Harvard, George Washington University, and other reputable educational institutions. Product-appropriate volunteer reviewers, combined with the brainpower of the Board, determine the coveted winners. The full list of 2015 winners is posted online at www.AcademicsChoice.com. Temple's books are available at Amazon, Barnes and Noble, and other booksellers.