Dionne Phillips, Founder of D'Lashes Luxury Lashes Defined to Speak at the 4th Annual Black BusinessWomen Rock Conference & Expo
Hollywood lash authority, Dionne Phillips delivers a talk on what it means to be a successful Black female entrepreneur within the beauty space and how to set yourself apart from the rest.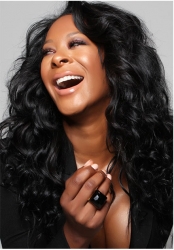 Los Angeles, CA, December 05, 2015 --(
PR.com
)-- Dionne Phillips, the Hollywood authority on eyelash extensions and creator of D'Lashes, Luxury Lashes Defined, will participate as a keynote speaker for the 4th Annual Black BusinessWomen Rock Conference & Expo on Saturday, December 5th, at the Pasadena Convention Center. Dionne joins a host of other successful, revered Black professionals, entrepreneurs and creatives who are coming together to develop stronger business networks and professional training for people of color in an upbeat and lively environment.
Dionne, who is set to take the stage at 7:00 PM will speak on own experience as a former model in New York and how she eventually moved into the--then very niche--world of eyelash extensions. She'll share how she went from holding appointments for a small list of celebrities to now being the beauty must-have for some of Hollywood and the music industry's biggest names like Victoria Beckham and Mindy Kaling, owning a private studio in the tony Beverly Hills area, operating a successful e-commerce site and developing her own product line.
Along with her own story, Dionne will share the successes and challenges that come along with being a Black entrepreneur within the mainstream beauty space. She will speak to the importance of branding and transforming your business into a household name, which she has first hand knowledge in doing since a launching her D'Lashes brand in 2005. And beyond that, Dionne will address branding through social media messaging and imagery, easy booking tools, stylish on-brand websites, memorable taglines and the key role that these tools play in a beauty brand's success.
Years of working in the beauty industry has taught Dionne so much including the power of giving clients something that makes them feel special as well as giving them a reason to trust their look with you. An expert in selling herself, Dionne will touch on peppering your beauty brand with personal touches such as tutorials or videos and exploring the idea of a blog space to connect more deeply with your market.
Dionne says she's "absolutely thrilled and honored" to be apart of this event and can't wait to share her knowledge and beauty branding expertise with the crowd. She truly admires the BlackWomen Rock organization and believes that Black business women really do rock and wants the world to know that.
Speakers can listen here Dionne's talk on Saturday, December 5th at 7pm upstairs in room #101. Space is limited and seating is first come, first serve. Also, follow Dionne on Periscope and Snapchat (@DLASHES) as she'll be documenting the entire conference experience.
About Dionne:
Dionne Phillips has been dubbed the premier authority in celebrity eyelash extensions and faux lashes. She began her career servicing clients such as Naomi Campbell, Renee Zellweger, Lindsay Lohan and a host of others while working at a well-known, prestigious salon. After several successful years of providing LA's most beautiful and durable eyelashes, Dionne decided to strike out on her own, launching D'Lashes in 2005.
About D'Lashes Salon and Product:
The salon features state of the art amenities and the kind of pampering you would expect and deserve. Take your eyelashes from thin unnoticeable eyelashes to rich, full, beautiful ones.
Dionne's Lashes are custom individual eyelash extensions that are attached to your natural eyelashes, lasting up to 6-8 weeks. While you relax, the procedure is painless and takes approximately 2 hours. Whatever your choice of look, giving your natural eyelashes a full, long glamorous look.
Mascara can be a thing of the past. Safe, Hypoallergenic and waterproof. Easy to maintain, you can easily workout, take a shower or even swim in them. Saving your time and money on mascara and false strip eyelashes.
To learn more about Dionne, interview her or book an appointment contact: Dlashes7@gmail.com
Contact
D'Lashes
Dionne Phillips
(310) 552-8174
dlashes.com
Periscope:@DLASHES
SnapChat: @DLASHES

Contact