L. Ron Hubbard's Post-Apocalyptic Tale—Final Blackout—Honored at Tower of London, Site of Story's Dramatic Conclusion
L. Ron Hubbard's "Final Blackout" celebrates 75th anniversary with a presentation made at Tower of London under the Byward Gate, location of the dramatic conclusion of the post-apocalyptic anti-war story. The presentation was made by recently Knighted Dr. Sir Iftikhar Ayaz the Consul/Ambassador for Tuvalu (South Pacific) and Peace Envoy for the United Nations.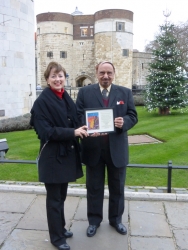 London, United Kingdom, December 24, 2015 --(
PR.com
)-- The 75th anniversary of L. Ron Hubbard's "Final Blackout" was recognized by Dr. Sir Iftikhar Ayaz the Consul/Ambassador for Tuvalu (South Pacific) and Peace Envoy for the United Nations in a presentation made by the Tower of London, the location of the story's dramatic conclusion. Dr. Sir Ayaz was awarded Knighthood this last month personally by the Queen of England.
Universally regarded as one of the greatest novels of science fiction's golden age and among the most influential works of twentieth-century military science fiction, "Final Blackout" provided a vision of what incessant warfare could bring about.
The plaque as presented by Dr. Sir Ayaz to a Hubbard representative, stated in part, "I would like to acknowledge L. Ron Hubbard's anti-war book 'Final Blackout' and its 75th Anniversary which closes with the following quote: 'When that command remains, no matter what happens to its officer, it has not failed.' - L. Ron Hubbard."
Originally published in the April-May-June editions of Astounding Science Fiction as the Second World War raged across the face of Europe with its shadows lengthening everywhere, it was a vision of what could happen and a chilling warning which has echoed across more than seven decades of what may still happen. Kirkus Reviews called it, "A chilling and lucid picture of the effects of incessant warfare." While Robert Heinlein claimed it, "as perfect a piece of science fiction as has ever been written."
With its work-in-progress title, "The Unkillables," it is a post-apocalyptic story of a larger-than-life, combat-wise, principled protagonist known only as "the Lieutenant," whose deep moral concern for his brigade of irregulars became the measure of the quintessential leader. In the end, it is up to this band of survivors, led by a man whose very anonymity symbolizes a transcending clarity of purpose and the conviction that the individual can make a difference, to salvage what they can of their lives and their civilization.
"Final Blackout," acclaimed as the archetypal "survivalist" story, the exemplar of "future war" novels, and as trendsetting "alternate history," is available at www.Amazon.com and www.galaxypress.com.
Established in 2002 to meet the growing demand for the fiction works of bestselling author L. Ron Hubbard, Galaxy Press is the United States, Canada and Latin America publisher and distributor for Mr. Hubbard's complete fiction library, including perennial and New York Times bestsellers such as Battlefield Earth, Mission Earth, Final Blackout and To the Stars, and the collection of 153 novelettes and short stories released in 80 volumes as the Stories from the Golden Age.
For more information go to
www.galaxypress.com
.
Contact
Author Services, Inc.
Emily Jones
323-466-3310
www.galaxypress.com

Contact