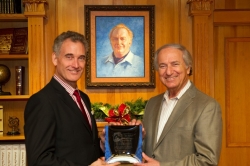 Hollywood, CA, December 24, 2015 --(
PR.com
)-- "Typewriter in the Sky" was first published 75 years ago in the November-December 1940 issues of Unknown Fantasy Fiction. In recognition of this anniversary, James Sullos, President Edgar Rice Burroughs, Inc., offered his congratulations on the diamond anniversary with a presentation made at the L. Ron Hubbard Library in Hollywood, CA, Tuesday, December 22. Sullos presented a plaque to Galaxy Press President John Goodwin, which read: "Congratulations to L. Ron Hubbard on the 75th anniversary of Typewriter in the Sky. What literary and creative genius to have the featured antagonist modify the author's storyline to become the protagonist. Edgar Rice Burroughs and Mr. Hubbard are pulp fiction legends. Their personal interchanges spoke fondly of their respective talents. May both of their legacies continue to survive over the centuries."
"Typewriter in the Sky" remains one of Hubbard's most celebrated titles. In the book Resnick at Large, authors Mike Resnick and Robert J. Sawyer cite "Typewriter in the Sky" as an example of 'Recursive Science Fiction,' a subgenre described as science fiction about science fiction." It is additionally listed in "Fantasy: The 100 Best Books," by James Cawthorn and Michael Moorcock. In "Rivals of Weird Tales: 30 Great Fantasy and Horror Stories from the Weird Fiction Pulps," Robert E. Weinberg, Stefan R. Dziemianowicz and Martin H. Greenberg write that "Typewriter in the Sky" is classed among stories published in Unknown which "still rank as some of the best fantasy produced in this century." Author David Wingrove notes in "The Science Fiction Source Book," "His [Hubbard's] best work is outstanding within the pulp tradition: 'Typewriter in the Sky' is a fine fantasy about a man who gets trapped within a story written by a pulp writer." Writing in A Short History of Fantasy, authors Farah Mendlesohn and Edward James characterize the book as "The best of Hubbard's stories" and notes that it "is better seen as a rationalized fantasy."
Typewriter in the Sky is available from Galaxy Press, Amazon.com and BN.com in both print and digital formats.
http://www.galaxypress.com/product/typewriter-in-the-sky/
Born on March 13, 1911 in Tilden, Nebraska, L. Ron Hubbard was one of America's most prolific writers of popular fiction producing over 15 million words of fiction with a writing career that spanned over five decades. During the 1930s and 40s he authored more than 200 short stories, novelettes and novels under his own name and any of his 15 pen names at a production rate of about 100,000 words a month. His published works from that era encompassed adventure, detective, science fiction, western and fantasy work and can be found at www.GalaxyPress.com.