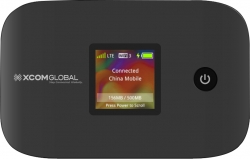 Las Vegas, NV, January 06, 2016 --(
PR.com
)-- XCom Global, Inc., a leading provider of low cost wireless Internet access rental services for international travelers, announced today at CES (Booth#72770) it is unveiling a new mobile hotspot that was designed and built to the company's specifications to meet the growing needs of its customers. XCom Global's Mobile Hotspot has been named a CES Innovation Award honoree and is being featured in the Innovation Awards Showcase at Sands, Level 1, Hall G, Booth#83319.
XCom Global's Mobile Hotspot is the world's first truly global mobile hotspot that utilizes LTE speeds and frequencies in over 200 countries across the globe. It supports 13 LTE bands as well as 4G HSPA+ and 3G connections. Additional features include: WPA2 encryption for strong wireless security; a 6000 mAh Li-Ion battery for up to 10 hours of use; a USB port that can be used as a power bank/portable charger for additional devices; and support of up to 10 Wi-Fi enabled devices.
"Year after year we found ourselves vetting hotspots to see which ones would provide the most reliable and consistent connectivity," said Joe Fennell, Chief Operating Officer (COO), XCom Global, Inc. "After all, ensuring our customer has solid equipment is a key part of the value we deliver. And each year we have had to settle for the best we could find, but the hotspots always seemed to be lacking something. The biggest challenge was network compatibility. It was inevitable that certain countries would require special equipment because the primary hotspot chosen for our fleet was not compatible with their network. Then it occurred to us that since we know better than anyone what needs to change, let's just design our own."
The new XCom Global Mobile Hotspot will be added to its fleet of rental devices. However, the company will also be offering the hotspot for sale to frequent travelers along with service plan options that allow them to rent network access apart from the equipment rental since they will own the device. The company plans to launch the hotspot for purchase and updated service offerings in April 2016.
XCom Global's high-speed Internet access rental service provides international travelers unlimited data usage and the freedom to wirelessly roam abroad in over 200 countries around the world. Travelers arrange for their coverage before they set out on their trip so they can have an affordable data connection upon arrival. No technical expertise or unauthorized unlocking is required to receive a private and secure Wi-Fi connection using the company's World Wi-Fi hotspots, including support for WPA2 and VPN pass-through. Customer service is available 24 hours a day.
About XCom Global, Inc.
Headquartered in San Diego, Calif., XCom Global, Inc. is a leader in providing secure, low-cost, high-speed wireless Internet access to business and leisure travelers. The company offers World Wi-Fi hotspot rentals with broad global coverage at rates substantially below standard international roaming charges. XCom Global is a U.S. subsidiary of an established Japanese company that has been in the forefront of providing travelers with innovative wireless communications services since 1995. For more information, please visit www.xcomglobal.com, call 877-520-8242 or contact us at info@xcomglobal.com. In addition, get updates and travel tips by connecting with us on Facebook and Twitter.