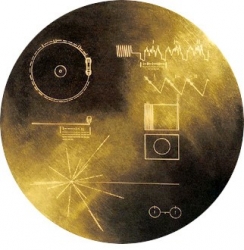 Hollywood, CA, January 05, 2016 --(
PR.com
)-- The announcement by NASA that Voyager 1 has left our solar system and that Voyager 2 is soon to leave our solar system, made 39 years after Voyager's flights began, now sets the stage that was the premise for the internationally acclaimed bestselling novel, "Battlefield Earth."
Per NASA, both Voyager spacecrafts carry a greeting to any form of life, should that be encountered. The message is carried on a 12-inch gold-plated copper disk phonograph record containing sounds and images selected to portray the diversity of life and culture on Earth.
While it was conceived that it would be tens of thousands of years before the Voyager would reach any other planetary system, it was noted by Carl Sagan of Cornell University, "The spacecraft will be encountered and the record played only if there are advanced space faring civilizations in interstellar space. But the launching of this bottle into the cosmic ocean says something very hopeful about life on this planet." It also assumes that intelligent life, if it does exist, is also benevolent, not greedy and not xenophobic as man is proving to be as he evolves as a race.
In the opening chapter of "Battlefield Earth" which takes place in the year 3,000 where man has been driven almost to extinction, Hubbard describes what brought about the invasion and near total destruction of the planet. He wrote, "Man apparently sent out some kind of probe that gave full directions to the place, had pictures of man on it and everything. It got picked up by a Psychlo recon. And you know what?" He went on, "The probe and the pictures were on a metal that was rare everywhere and worth a clanking fortune. And Intergalactic paid the Psychlo governors sixty trillion Galactic credits for the directions and the concession. One gas barrage and we were in business."
While no one hopes that our message to alien races results in an attack upon Earth, the message of "Battlefield Earth" is very clear—man's ultimate desire to survive is greater than even the most brutal of alien races.
"Battlefield Earth" by L. Ron Hubbard is one of the bestselling science fiction novels of all time as it opens on an Earth—dominated for the last thousand years by brutal alien invaders—where man is now an endangered species.
For more information go to
www.battlefieldearth.com