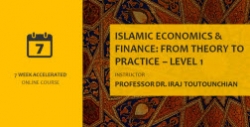 Newark, DE, January 08, 2016 --(
PR.com
)-- Yurizk Academy, the first crowd-learning platform dedicated for Islamic Economy, launched a new Islamic Economics course. The instructor of the course is Professor Dr. Iraj Toutounchian, an award winning author and Islamic Economist.
Professor Dr. Iraj Toutounchian is the author of "Islamic Money & Banking: Integrating Money in the Capital Theory" and a professor of Islamic Economics, Banking & Finance. Professor Iraj was a visiting professor at INCEIF (International Centre for Education in Islamic Finance) where he taught on Islamic Banking and Islamic Capital Markets. He was called a 'superior economic theorist' and 'someone who retains the ability to apply theory to the real world problems' by his dissertation supervisor. Dr. Iraj was elected by the World Bank as International Expert in Islamic Finance for providing consulting services for a pilot project on Indonesian Islamic Finance industry.
Professor Dr. Iraj is now offering a new course "Islamic Economics & Finance: From Theory to Practice – Level 1" on Yurizk Academy which is open for registration. The course is starting from February 1, 2016. This is the first Islamic Economics course released on the digital learning platform. Learners who successfully pass the comprehensive exam after completing the course will receive verified certificate by Yurizk Academy.
The online course is divided into five modules and will be delivered online as video lectures. Starting from February 1, 2016 each module will be released on every Monday. The course is a seven week accelerated introductory course on Islamic Economics and Finance which aims to develop future research scholars, economists, academic scholars, and industry thought leaders in the area of Islamic Economics, Banking, and Finance. Registered learners will be able to access the course from anywhere in the world with internet connected computer, laptop, iPad, iPhone and android phone. Recordings will be available to learners for flexible viewing schedule. Learners will also be able to ask questions to the instructor during the seven weeks. The deadline for registration is January 31, 2016. For more information and registration info, please visit:
https://yurizkacademy.com/course/islamic-economics-finance-from-theory-to-practice-level-i/
About Yurizk
Yurizk is the leading U.S. based online source of global Islamic Finance education information for the stakeholders in Islamic Finance industry. Focused on facilitating human resources development for Islamic Economic sectors, Yurizk has contributed the following since its inception:
2012: Launched Yurizk Directory - the first online directory of Islamic Finance education providers that houses the largest database of Islamic Finance education and training related information.
2013: Released 'Global Islamic Finance Education Report 2013' - the first of its kind report on global Islamic Finance education that revealed the latest comprehensive intelligence in education sector of Islamic Finance.
2014: Launched 'Yurizk's Business Leadership Coaching 2014' - the first online entrepreneurship development program for facilitating entrepreneurship and niche leadership in Islamic Finance and Halal industries.
2015: Launched 'Yurizk Academy' - the first crowd-learning platform for Islamic Finance and Islamic Economy.
2015: Launched 'IECON TV' - the First crowd based online TV for Islamic Finance and halal sectors.
Learn more about Yurizk: http://yurizk.com
About Yurizk Academy
Yurizk Academy is the first crowd learning digital platform dedicated for Islamic Finance and halal industries. Combining the ideas of crowd sourcing and MOOC and leveraging robust e-learning management system, Yurizk Academy aims to bring the sources of knowledge, skills, and expertise within Islamic Finance and halal sectors to anyone, anywhere in the world. Learn more about Yurizk Academy: https://yurizkacademy.com