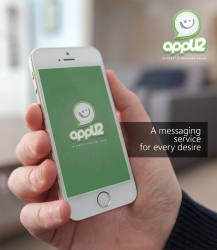 Palo Alto, CA, January 09, 2016 --(
PR.com
)-- For over 10 months the AppU2 team was hard at work developing this revolutionary new mobile app. Soon to be launched,
AppU2
is a cross-platform, multipurpose, smart social messaging service that will provide benefits to all people. AppU2 will convert online social times into a valuable time spent online. AppU2 was built to enable people to create, communicate, chat, share, work, recommend and discover the world through content and messages on mobile devices more intelligently. AppU2, the multipurpose messaging service, enables its users to create and publish messaging profiles which may focus on talent, business, enterprise and celebrities to allow direct connection and superfast communication.
The AppU2 team moved from the UK, and located themselves in the Silicon Valley area, and have already closed their first round of funding with an angel investor along with upcoming Venture Capital rounds in early Jan, 2016. They believe a Smart Messenger App would be the most interesting app on any device and it is going to help users to build and maintain deeper engagement and better connectivity. AppU2 collects minimum data and provides maximum services.
During a recent press conference, Maxwell Fahandezh, Co-founder & CEO of AppU2, made these comments: "We are always striving to improve AppU2 by constantly updating our technology and improving our service so that the AppU2 user will always feel the benefits of a great messaging experience and brilliant service. It's been amazing to watch an idea become a platform that has the possibility and capability for hundreds of millions of people to express themselves." Existing social media platforms use sign-up forms that are too long and time consuming. This makes users impatient. With AppU2 there is No Signup, No Subscriptions, No Wasted Time and No Privacy Issues.
For complete information, please visit: AppU2