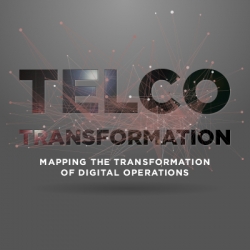 New York, NY, January 11, 2016 --(
PR.com
)-- Light Reading (
www.lightreading.com
), the market-leading integrated media company serving the global communications sector, has expanded its portfolio with the launch of a new online community, Telco Transformation (
http://www.telcotransformation.com
).
The new community, sponsored by Huawei Technologies, will identify, highlight and explain the significant digital, operational, business and cultural transformation underway at the world's leading communications service providers such as AT&T, BT, CenturyLink, Deutsche Telekom, Etisalat, NTT, Orange, Telefónica, Verizon Communications and Vodafone.
Its experienced editorial team will engage with the key executives that are enabling and driving this dramatic revolution; publish contributed blogs from those executives; run live online radio shows and webinars; create weekly community poll; and publish their own written, video and multimedia blogs to reflect the major changes underway in the communications industry and stimulate important debate.
Key focus areas for coverage on Telco Transformation include digital platform development, big data analytics, customer experience management, real-time rating and charging, DevOps, business and partnership strategy developments, applications and cloud platform development, IT system transformation and network architecture evolution.
Accomplished London-based telecom industry editor Iain Morris, the news editor at Light Reading, is the editor-in-chief at Telco Transformation. "Telcos are facing a torrent of challenges as web-scale players move further into the communications arena and legacy businesses flounder," says Morris. "But they are also looking at some huge opportunities -- the Internet of Things, cloud and managed security services and the introduction of virtualization into their networks, to name just a few. To survive, they'll need to adapt their culture and working practices, besides their networks and back-office systems. It's going to be a risky process but the winners will be the fulcrum in the digital communications market of the future."
Montrose, Colo.-based Mike Robuck, who has more than 15 years of experience as an editor in the communications sector, primarily at CED Magazine, is the editor at Telco Transformation. "Service providers know they need to evolve their business strategies, processes and operations to not only keep up with the competition, but also to meet customers' increasing demands for new and better services," Robuck says. "The types of transformation that are currently underway, and that will continue over the next 15 to 20 years, are truly game-changers. I look forward to covering how the industry is adapting its cultures, business models, architectures, and digital operations in an ever-changing environment."
Follow Telco Transformation on Facebook (https://www.facebook.com/TelcoTransformation/), LinkedIn (https://www.linkedin.com/groups/8447747) and Twitter (https://twitter.com/telco_transform).
About Telco Transformation
Telco Transformation (
http://www.telcotransformation.com
) provides the latest insights into how today's communications network operators and service providers are transforming their networks, services, partnerships, cultures and business strategies to adapt to the digital society. Telco Transformation is an online community for executives from communications service providers and their partners, suppliers and customers, as well as for investors, analysts, government officers, researchers and academics, all of whom are looking to understand, track and benefit from the transformation underway in the global communications networking and services sector.
About Light Reading
Light Reading (www.lightreading.com) helps the global communications industry make informed decisions. Lightreading.com is the definitive source for next-generation communications analysis for more than 450,000 users each month, leading the media sector in terms of traffic, content and reputation. Light Reading also produces live events for executives charged with monetizing cable, New IP, optical, Ethernet, mobile, gigabit cities, security, virtualization, components, communications drones, next-gen analytics, Internet of Things and wireline networks. Visit Light Reading on Facebook, LinkedIn, Twitter and YouTube for all the latest news.