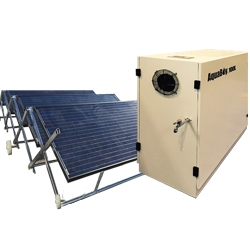 Davie, FL, January 12, 2016 --(
PR.com
)-- Aquarius BrandsTM and its wholly owned subsidiaries Atmospheric Water SolutionsTM and DroughtBusterTM will release new product lines of atmospheric water generators, water saving devices, and a new retractable solar solution at the International Builders Show (IBS) in Las Vegas from January 19th – 21st. The company has an unprecedented four products selected as "Best of IBS" finalists:
Best Kitchen Product AquaBoy Pro ® - Floor unit
Most Innovative Building Product AquaBoy® 300 - Whole house AWG
Best Energy Efficient Product Retrax Solar Solutions™
Best Green Building Product Retrax Solar Solutions™
The AquaBoy® is a device that condenses humidity in the air and processes it through a patented multi-filtration system delivering the best purified water in the world without any chlorine, fluoride, or heavy metals commonly found in tap and bottled waters. The AquaBoy® line produces from 5 to 5,000 gallons/day of "purified great tasting waterTM" and can be powered by the company's new RetraxTM solar power system.
RetraxTM is the first retractable, pre-wired and pre-connected solar panels which deploy and stow quickly and easily via wheels connected under the foldable panel assembly. It eliminates lengthy and non-transportable installations, as all panels are movable and fully integrated with an inverter on every panel. Panels are shipped folded tightly together in an accordion-like rack with wheels. To install, you simply roll the system out until it is flat and then plug-and-play. If the system needs to be stowed, it rolls back into its carriage like an accordion in minutes.
About Atmospheric Water Solutions, Inc.
One of the original patent holders of atmospheric generation technology developed in the late 1990s, AWSTM produces systems that make purified water from air through their patented process of condensation collection, filtration, storage and distribution. The systems come in all sizes (5 to 5,000 gallons/day) and are scalable by linking units in series. These machines serve homes and offices, events, oil and gas exploration and production, agriculture, mining, military, hospitals, schools, municipalities, humanitarian efforts and areas with limited water supply.
www.AtmosphericWaterSolutions.com
or www.twitter.com/WaterFromAirAWS
About Aquarius Brands, LLC
Aquarius BrandsTM is a holding company with various subsidiaries and brands, including Atmospheric Water SolutionsTM, DroughtBusterTM, and RetraxTM focused on water conservation, education and generation.
www.AquariusBrands.org