Maven House to Publish Jorma Ollila's Bestselling Insider Story of Nokia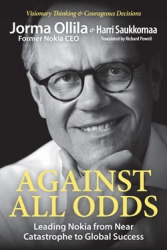 Palmyra, VA, January 14, 2016 --(
PR.com
)-- Maven House Press has acquired U.S. rights to publish the English translation of "Against All Odds" (Otava 2013), legendary CEO Jorma Ollila's autobiography and first-person account of the rise and fall of Nokia. The book will be published in October 2016.
"We're excited to be publishing Jorma Ollila's compelling memoir," said Jim Pennypacker, Publisher at Maven House. "The book offers an insightful account of Nokia and the mobile revolution, but just as important, Ollila's riveting stories are filled with lessons about the nature of leadership, the importance of shared values, and the need for strategic thinking."
Jorma Ollila, CEO of Nokia from 1992 to 2006, turned the company into the world's leading mobile phone manufacturer. The book narrates Ollila's personal and professional journey, exploring the fine line between stratospheric success and catastrophic failure, the nature of leadership – and the human element of business, including encounters with figures such as Bill Gates and Steve Jobs.
"Against All Odds," co-authored by Harri Saukkomaa, was Finland's bestselling narrative nonfiction title in 2013, and was selected as one of the year's most fascinating books by the influential Suomen kuvalehti magazine. It has sold tens of thousands of copies since its publication.
About the Authors
Jorma Ollila became the pre-eminent European businessman of his generation during his time as Nokia's CEO from 1992 to 2006 and Chairman from 1999 to 2012. He served as Chairman of the Board of Royal Dutch Shell from 2006 to 2015. Currently he is an Advisory Partner at investment bank Perella Weinberg Partners. He is an Honorary Fellow of the London School of Economics and holds honorary doctorates from the University of Helsinki, the Helsinki University of Technology, and the University of Vaasa.
Harri Saukkomaa, chairman of Tekir, is a distinguished journalist and entrepreneur.
Translated into English by Richard Powell.
About Maven House Press
An independent publisher specializing in forward-thinking business books by executives, business owners, educators, journalists, and other experts, Maven House was founded in 2012. Its titles are distributed by Legato/Perseus Books Group.
Contact
Maven House Press
Jim Pennypacker
610-883-7988
mavenhousepress.com

Contact