"Spiritual Water" is This Year's Most Appropriate and Controversial Christmas Stocking Stuffer
New Bottled Water Product Conveys the True Christmas Spirit & also Generates Widespread Media Attention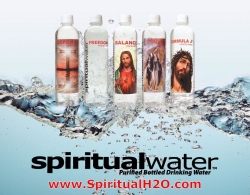 Miami, FL, December 24, 2007 --(
PR.com
)-- While throngs of Americans pack the parking lots of shopping malls and stress about the holidays, one faithful entrepreneur has an answer that is absolutely in keeping with the original message of Christmas.
"Spiritual Water can save the world," claims Elicko Taieb, founder and owner of Spiritual Brands, the parent company of Spiritual Water, "one person and one bottle at a time."
Elicko believes that nothing could be more in keeping with our holiday tradition than the sharing of a satisfying beverage along with a prayer and a wish for peace on earth and goodwill toward all. He told the New York Times that it is really about thinking positive. "We create an icon that people can use on a daily basis," he said. "It's a symbol that says, 'Hey, you can do it. God is with you.'"
If anyone doesn't agree, Elicko invites the controversy. As reported on Newsweek.com, some communities, for example, argue that putting images of Christ on a plastic bottle contradicts spiritual values, because it will eventually help to increase the volume of waste expanding our landfills. But Elicko counters that plastic bottles can be recycled – and he also says that his customers often save the water bottles because they like the colorful spiritual labels.
For those who partake, the overall impact is totally positive, he says. "Spiritual Water is dedicated to God and prayer," Elicko explains. "And we practice what we preach by donating a portion of every sale to a special foundation to help children in need around the world. For those reasons this spiritual idea is going to grow from a hot new trend into the biggest bottled water enterprise on earth, and along the way it will energize people's faith as well as people's bodies."
Whatever consumers may think of his water product, few of us can disagree with the notion that positive thoughts and actions are too often missing in the world. And it is fairly obvious to anyone who has visited a mall lately that there is an increasing lack of spiritual significance and emotion during the hectic and often materialistic modern holiday time of year.
"God is present everywhere, all year 'round," Elicko reminds us. "In His images, in prayers offered to Him, and in healthy, natural water. Each time you drink you benefit spiritually and receive the added blessing of uplifting inspiration. So Spiritual Water is not limited to just quenching physical thirst. This product also puts out the fire of material thirst and replaces it with spiritual fulfillment." Faith in the power of the Lord can unite all of us, he says, regardless of our differences – and is the real "reason for the season".
And if we can be reminded of that wonderful and important idea by placing a bottle of water into a stocking, then Spiritual Brands has captured not only the imagination of the modern consumer, but also the sacred spirit that inspires our holiday celebrations.
###
Media Interviews Available
Contact Info:
Spiritual Brands, Inc.
Tel: 800-736-9070
Fax: 954-208-0696
Email: support@spiritualH2O.com
Email Mr. Elicko at elicko@spiritualH20.com
For more information, please visit the Spiritual Water/Spiritual Brands Web Site: www.SpiritualH2O.com
About Spiritual Water:
The mission of Spiritual Water is to help people think positive, lift up their spirit, give them a chance to believe in themselves and let them know that God is with them. Help making the world a better place - when you think positive and your spirit is up, then everything you do throughout the day will work for you. Every bottle makes a difference, because Spiritual Water will donate ten cent ($0.10) of every bottle sold to The Spiritual Foundation, a foundation for children in need.
Contact
Spiritual Brands, Inc.
Mr. Elicko Taieb
954-675-8400
www.spiritualh2o.com

Contact