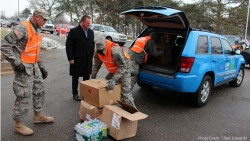 Flint, MI, January 22, 2016 --(
PR.com
)-- Aaron Samson, the CEO and Founder of the local Michigan lawn care company, Lush Lawn, traveled to the city of Flint, January 21st 2016, to bring bottles of donated water to the Flint Fire Station there, located at 310 E. 5th St. The fire house had military personnel there helping to unload donated water, as well as assist in the dispersal of the water to Flint residents.
Lush Lawn, which has 3 branches, one in Brighton, one in Rochester Hills, and one in Grand Blanc - has employees, and customers, who were directly affected by this crisis in which Flint city residents ingested, percentages of lead via contaminated drinking water. Residents not only drank and cooked with the water, but also bathed in it, sometimes seeing the water turn a brownish-copper color when pouring out of the faucet. This caused many children and adults to develop sores on their body, as well as a litany of other health issues, many of which, have yet to be determined.
The Flint water crisis has brought the city world-wide attention, sending even the likes of President Obama to visit the mayor of Flint this week. Lush Lawn wanted to express to it's customers, as well as everyone in the state of Michigan, that helping the people of Flint is a very simple thing to do.