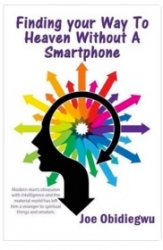 Naples, FL, February 02, 2016 --(
PR.com
)-- First Edition Design Publishing has announced the worldwide release of "Finding Your Way To Heaven Without a Smartphone." In clear, everyday, jargon-free language, the author, Joe Obidiegwu, shares unique, thought-provoking, insights on what it means to be human in our startlingly dehumanizing smart device saturated age. Drawing from personal life stories that began in a small village in Africa, Mr. Obidiegwu patiently and quietly guides the reader on a revealing journey of cultural inquiry and self examination, exploring the hidden histories, philosophies, and religious traditions that subtly but fundamentally inform and shape how we exist and how we experience our world. His captivating narratives bring to life in vivid terms the divine purpose underlying human existence, enabling the reader to engage in active self revelation and empowering awareness and understanding. Parents of all ages, teachers, and anyone in the position to directly influence the life of another human being will find this book valuable. It speaks directly to middle-aged readers because they are at the stage where life is often viewed as a futile "war of attrition" against Father-time rather than a "laborious voyage of love." The reader among other things will learn:
1. There is a real difference between intelligence and wisdom
2. Life challenges are the indispensable ingredients for growth
3. Aging is not a curse but nature's only way of opening our eyes to wisdom
4. The human being is inherently related to the universe in a verifiable way
5. Life is not a race to achieve high social status in society, but rather a long and slow transformational process towards human excellence
Quotes from readers:
Jay Margolis
"Well written and entertaining, I learned a lot about history, philosophy, religion and cultures. The author has an incredibly wide knowledge on a variety of subjects. Most of all it got me to think about how I am living my life and what changes I might make."
Marjorie Suydam
"Joe brings incredible insight to both the differences and sameness in our cultures. He tells his story with great humility, laced with humor, compassion and a deep, non judgemental understanding of his fellow man."
Paulette Defazio
"Joe's unique writing style incorporates very personal experiences and insights that guide the reader to question his/her own understanding and connectivity, purpose and meaning to our life's journey which is filled with challenges and rewards."
Amy
"A refreshing account of life's journey. This book is an elegant example of what it means to be a human being, sharing love and spiritual engagement with our world."
About the author
Joe Obidiegwu is currently teaching philosophy at Nya Tiden Montessori Skola in Sweden, where he is working on finishing the second part of this book, due to be released in the Fall of 2016. His mission is to make Emotional intelligence (human wisdom) a part of mainstream school education curriculum. You can contact him via:
http://joeobidiegwu.com/
or
smart.heaven1@gmail.com