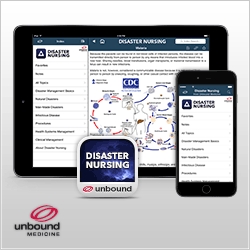 Charlottesville, VA, February 03, 2016 --(
PR.com
)--
Unbound Medicine
, a leader in knowledge management solutions for health care, today announced the release of
Disaster Nursing,
a new evidence-based mobile application that prepares nurses with the knowledge and skills to respond to disasters and public health emergencies in a timely and appropriate manner.
Disaster Nursing is authored by Dr. Tener Goodwin Veenema, PhD, MPH, MS, RN, FAAN, an internationally recognized expert in disaster nursing and public health emergency preparedness. Dr. Veenema chose Unbound Medicine to deliver her unique content because of the ability to deliver it electronically to nurses and students at the point of need on the user's device of choice. Using
uPub™
– Unbound's online authoring system – she was able to efficiently prepare the content and then incorporate peer review from outside subject matter experts. Afterwards, Unbound created Disaster Nursing mobile apps for distribution to individuals in the Apple and Google app stores and integrated the content for institutional customers within award-winning products such as Nursing Central™ and uCentral™.
"At a time when major disasters are occurring globally with increasing frequency and intensity, it is essential that our nation's nurses and nursing students possess the knowledge and skills to respond to a disaster in a timely and appropriate manner," said Dr. Veenema. "uPub was so easy to use and the support I received from Unbound Medicine was first class from start to finish. I am delighted that nurses and public health officials now have access to this critical information when and where it is needed."
Disasters and public health emergencies are often unpredictable and range from human-caused problems like a nuclear meltdown or mass shootings, weather-related events like tsunamis and earthquakes, infectious disease epidemics, and everything in between. The Disaster Nursing app includes information on over four hundred different types of events and infectious diseases. The app helps nurses prepare for any disaster situation by providing critical guidelines that can be accessed anytime including when an internet connection is not available.
"We are excited to partner with Dr. Tener Goodwin Veenema to deliver her expertise to nurses, students, and public health professionals," said Bill Detmer, MD, President of Unbound Medicine. "Now critical disaster relief information can be accessed in the event of an emergency anytime, anywhere."
About Unbound Medicine
Unbound Medicine builds digital products that answer clinical questions at the point of need. With expertise in medical informatics, health technology, and medical publishing, our team has delivered innovative mobile and web solutions to health care institutions and individual clinicians for more than 15 years. Additional information is available at
www.unboundmedicine.com
.
About Tener Goodwin Veenema, PhD, MPH, MS, RN, FAAN
Dr. Tener Goodwin Veenema is an internationally recognized subject matter expert in disaster nursing and public health emergency preparedness. Dr. Veenema is currently an Associate Professor and Pediatric Emergency Nurse Practitioner at the Johns Hopkins School of Nursing and Center for Refugee and Disaster Response at the Johns Hopkins Bloomberg School of Public Health and President & CEO of Tener Consulting Group, LLC.