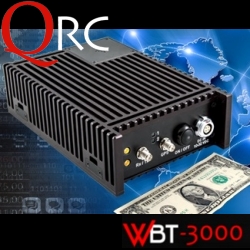 Fredericksburg, VA, February 04, 2016 --(
PR.com
)-- QRC Technologies (QRC) today announced the release of its 3rd Wide Band Transcorder® (WBT®), the
WBT 3000
. The Wideband Transcorder is a revolutionary product by QRC. Now it is possible to carry a single device that will copy the RF environment and store that environment on digital media. The recording can then be used for further analysis in either software or other RF devices. The RF recording that is made does not contain any physical data, strictly the raw RF samples. This allows for multiple uses of the RF data at a later time.
"We are very excited about the WBT line in general," says Jeff Lazzuri, Executive Vice President. "The portability of the WBT makes RF recording a now realizable concept. In the past, as well as with most of the other products on the market, this required many other pieces of expensive and heavy equipment. We are able to accomplish this within as little as a 3 lb. package.
"With the WBT, users can easily record any RF environment with as much as an 80 MHz capture anywhere from 50 MHz to 6 GHz. The thing that makes the WBT so attractive, besides the ease of use and portability, is the custom development environment. With this environment, users can modify the WBT by creating their own application to run intrinsically on the WBT. This makes the WBT a Software Defined Platform (SDP), as opposed to just a Software Defined Radio (SDR)."
QRC will have the WBT 3000 as well as some of its other products on display at Mobile World Congress (MWC) in Barcelona, Spain. Stop by Stand 6J55/Hall 6 for a demo.
About QRC Technologies
QRC Technologies (QRC) specializes in RF Test and Measurement products, especially for cellular communications. QRC develops and produces survey tools for cellular communication systems, phone based measurement, stimulation tools, forensic tools, and integrated RF recording and playback equipment.
QRC was founded in 1987 and has been serving as a systems integrator since its inception, and in the last decade has expanded with a portfolio of RF Test and Measurement products. The company has over 60 employees in multiple locations, including Fredericksburg, VA and Gaithersburg, MD. QRC tools cover CDMA, WCDMA, GSM, EvDO, WiMAX, LTE, and WIFI protocols.