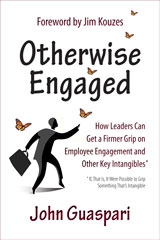 Palmyra, VA, February 10, 2016 --(
PR.com
)-- "Otherwise Engaged" by John Guaspari has been selected as one of the twenty top leadership books published last year by Leadership and Management Books, a brand of The Book Review Company. Managers from across the globe are invited to vote on their favorite leadership book from the books nominated. This public voting will reduce the list to five finalists. Public voting is open at bit.ly/leadership-book-of-the-year until February 15. From that list of finalists, the L&MB Advisory Board will select the Leadership Book of the Year.
"We're honored that 'Otherwise Engaged' has been selected as one of the best leadership books published last year," said Jim Pennypacker, Publisher at Maven House Press. "John Guaspari's book presents a highly original approach to dealing with employee engagement: He shows executives and managers how to stop doing the things that cause their employees to dis-engage."
Visit mavenhousepress.com/our-books/otherwise-engaged for more information about the book or to read an excerpt.
About the Author
For the past 30 years John Guaspari has helped leaders take on the challenge of being more effective at attending to the intangibles of managing employees. He is the author of six books on the topic, including the best-selling I Know It When I See It. Visit his blog at www.johnguaspari.com/musings. John lives in North Attleboro, MA.
About Maven House Press
An independent publisher specializing in forward-thinking business books by executives, business owners, educators, journalists and other experts, Maven House Press was founded in 2012. Its titles are distributed by Legato/Perseus Books Group. For more information visit mavenhousepress.com.
About The Book Review Company
The Book Review Company is a source for finding carefully selected business books on marketing, sales, leadership, and management. For more information visit thebookreviewcompany.com.