Envision Brings Horses to Help Kids at Camp Kangaroo
Envision Therapeutic Horsemanship partners with Seasons Hospice and Kachina's Place to help grieving children.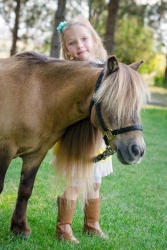 Phoenix, AZ, February 13, 2016 --(
PR.com
)-- Envision Therapeutic Horsemanship Inc. announces its participation in Camp Kangaroo, a day camp for children ages 5 – 17 who have experienced the loss of a loved one.
Sponsored by the Seasons Hospice Foundation and funded through the generosity of donors, Camp Kangaroo provides a safe environment for children to work through their grief and come to terms with their loss.
The camp runs from Saturday, February 13th through Monday, February 15th. The sessions start at 9 a.m. each day, and continue until 4 in the afternoon. Camp Kangaroo will be held at Paradise Valley High School, located at 3950 East Bell Road in Phoenix.
The children will attend eight sessions, working through a specially-designed curriculum that addresses death as change, the emotions of grief, remembering the deceased, and moving forward through grief. Clinical work will be done through several different modalities.
Envision Therapeutic Horsemanship will present the equine therapeutic activities component of the camp on Sunday, February 14th. Miniature horses from both Envision and Kachina's Place will work with the children. The "minis" provide all of the same therapeutic benefits of full-sized horses, but their smaller size makes them immediately approachable. This facilitates therapeutic interactions in small group settings.
Research has shown that equine therapeutic activities are effective in helping children to process their grief. Children who have participated in equine therapeutic activities show an increase in overall communication, self-confidence, and self-esteem. After equine therapeutic activities, children are also more able to talk about the deceased. These benefits promote long-term healing after a loss.
For more information about Camp Kangaroo, go to http://seasonsfoundation.org/wp-content/uploads/2015/10/CK_AZ_10-2015.pdf.
About Envision Therapeutic Horsemanship
The mission of Envision Therapeutic Horsemanship is to engage in a partnership between horses and humans to benefit, empower and facilitate positive change in the lives of individuals and their families. Envision accomplishes this by providing therapeutic riding, equine-assisted therapy and therapeutic activities. Envision also offers sibling and parent/caregiver programs, and educational classes on topics beneficial to clients. Envision is part of a referral network of both traditional and holistic professionals who work together to achieve positive change for the individual. Envision is based at a private ranch in Phoenix, Arizona.
Contact Information for Envision Therapeutic Horsemanship Inc.
P.O. Box 30921
Phoenix, Arizona 85084
Phone: 480-262-3434
Online Contact Form for Envision Therapeutic Horsemanship
info@envisiontherapy.org
About Kachina's Place
Kachina's Place is a charitable nonprofit equine therapeutic activities center located in Cave Creek, Arizona. At Kachina's Place, humans and horses can interact in an empathetic, educational, and fun manner.
Contact Information for Kachina's Place
4150 E Dynamite Blvd
Cave Creek, Arizona 85331
Phone: 480-678-4401
Online Contact Form for Kachina's Place
About Seasons Hospice
Seasons Hospice is a community-based organization with an ongoing mission to find creative solutions that add quality to life. Seasons Hospice believes firmly in the patient/family focus of hospice care, recognizing that individuals and families are the experts in their own care. Seasons provides care facilities throughout the United States.
Contact Information for Seasons Hospice (any location):
Toll-free Phone: 855-812-1136
Inquiries for Patient Services: info@seasons.org
Contact for Camp Kangaroo
Heidi Webster
Seasons Hospice & Palliative Care
2020 N. Central Avenue, Suite 170
Phoenix, Arizona 85004-4424
Phone: 480-606-1011
hwebster@seasons.org
Contact
Envision Therapeutic Horsemanship Inc
Lisa Pewe
480-262-3434
envisiontherapy.org
media fact sheet and photos http://envisiontherapy.org/media-fact-sheet/

Contact