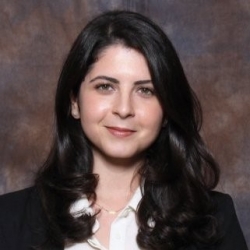 Irvine, CA, February 16, 2016 --(
PR.com
)-- Velexo, a Software-Enabled-Services ("SES") company, announced today that attorney Ladan Shelechi has joined their team in the Corporate Compliance and Legal Affairs group. Ms. Shelechi will serve as the company's In-House Counsel to manage legal affairs, risk mitigation, third party contracts, and corporate compliance.
"I am excited to be a part of the Velexo team where I can make a meaningful contribution to the growth of the company. At the same time, I will be expanding my knowledge and gaining insight into how our unique business model applies to the global marketplace," commented Ms. Shelechi.
Ms. Shelechi attended the University of California, Irvine where she received her bachelor's degree in English and minor in political science. She later attended Loyola Law School where she received her Juris Doctor degree. Notably, while at Loyola Law School, Ms. Shelechi externed under the Honorable Sandra Klein for the United States Bankruptcy Court, Central District of California; she served as President of the Women's Law Association and a Note and Comment Editor for the Loyola Entertainment Law Review; and published a Note regarding first amendment protections. Following her admission to the California State Bar, Ms. Shelechi began practicing as an Associate at the law firm of Smith | Hall | Strongin, LLP, where she handled various civil litigation matters.
Todd Banhidy, Velexo's founder and CEO stated, "We are thrilled to add Ladan to our amazing growth company. She is already making an impact and will add tremendous value to our organization. I am also confident she will have the opportunity to grow and advance her skills in in many areas, such as intellectual property protection, international law, contracts and licensing, sales tax nexus, and working with regulatory agencies from local to federal."
About Velexo:
Velexo is an SES company that invented a sophisticated technology based business process which allows buyers to purchase residential and commercial products (lighting, energy products, home décor, plumbing products, machinery, etc) bundled with trusted factory certified service (installation, measuring, assembly, warranty, etc).
Buyers simply Push a Button and Get It Installed™.
For more information or questions about Velexo, please contact Hannah Miller at hannah@velexo.com or visit www.velexo.com.