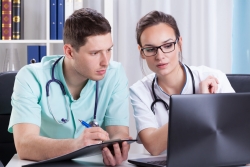 Philadelphia, PA, February 17, 2016 --(
PR.com
)-- Philadelphia housing market offers strong buy vs. rent economics and special Doctor Loan Programs allow medical residents exploring housing for Match 2016 to buy a home with less than it costs for rental deposits.
Average rents in Philadelphia start at $900 and go up to $2,000+ for areas near hospitals. Philadelphia's Center City real estate market has been steadily gaining in value in the areas near most major hospitals. Why not benefit from equity growth and cash flow during your residency?
Susanna Kunkel, Residential Specialist with PhillyLiving.com at Keller Williams is hosting a Free Webinar on Thursday, Feb 18th at 2:00 pm. Register at
www.phillymatch2016housing.com
. If you can't attend, register anyway and you'll receive information directly to your email.
On the webinar, Susanna will showcase examples of areas prime for equity growth, and options to have your home become an investment offering financial benefits now, and into the future. Philadelphia offers strong opportunities for equity growth and cash flow. Special financing is available for Doctors, Veterinarians and Dentists.
Susanna Kunkel is a Residential Specialist with PhillyLiving.com, an award winning team at Keller Williams in Center City.