DogsBite.org Releases 2015 Dog Bite Fatality Statistics; Percentage of Deaths Attributed to Pit Bulls Rises to 82% and Other Trends
In 2015, canines killed 34 Americans. Pit bulls and their mixes contributed to 82% (28) of these deaths, the highest fatality count on record for the breed and the highest percentage in the nonprofit's 11-years of data collection.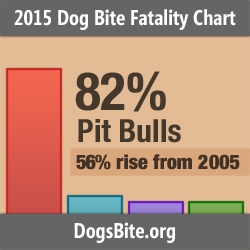 Austin, TX, February 19, 2016 --(
PR.com
)-- On February 19, DogsBite.org, a national dog bite victims' group dedicated to reducing serious dog attacks, releases its 2015 annual dog bite fatality statistics. Last year, dogs inflicted 34 deadly attacks in the country. Pit bulls contributed to 82% (28), the highest death count recorded for the breed and a 56% (18) rise from 2005. 82% is the highest percentage of deaths inflicted by pit bulls in a single year in the nonprofit's 11-year data set (2005 to 2015).
View:
2015 U.S. Dog Bite Fatality Statistics by DogsBite.org
In 2015, the combination of pit bulls (28) and rottweilers (3) contributed to 91% (31) of all dog bite-related fatalities. With the inclusion of American bulldogs (2), the pit bull's close cousin, the three breeds contributed to 97% of all deaths. On average in 2015, a pit bull killed a person in the U.S. every 13 days. Rottweilers, the second most lethal dog breed, killed a person every 122 days. Both deaths attributed to American bulldogs occurred in Miami-Dade County, Florida.
In 2015, 41% (14) of the fatality victims were children ages 9-years and younger, and 59% (20) were adults, ages 22-years and older. Of the total adults killed by canines in 2015, 65% (13) were ages 60-years and older. Annual data also shows that nearly one third, 32% (11), of all fatal dog attack victims were either visiting or living temporarily with the dog's owner when the fatal attack occurred. Children ages 9-years and younger accounted for 82% (9) of these deaths.
2015 annual data shows that 50% (17) of all dog bite fatalities involved more than one dog in the deadly attack; 15% (5) involved a pack attack of four of more dogs; 21% (7) involved breeding on the dog owner's property, either actively or in the recent past, and 6% (2) involved tethered dogs. At least 9% (3) involved dogs rehomed by county operated shelters or rescues as well. In one case, a rehomed rottweiler fatally attacked its new owner just 3-hours after being adopted to him.
In 2015, only 9% (3) of attacks causing death resulted in significant criminal charges, down from the 10-year average of 22% (2005 to 2014), and marking the lowest level in the last 11-years. Of the criminal cases in 2015, one involves second-degree murder charges and another, felony manslaughter. Also in 2015, for the first time in history, a U.S. medical examiner ruled "suicide" as manner of death in a fatal dog attack. The ruling continues to fuel debates in social media.
Southern States Dominate
In 2015, nearly two-thirds of all dog bite fatalities, 65%, occurred in the Southern United States. Texas once again led the nation in lethal dog attacks with 5 deaths during the year. Florida and Oklahoma each followed incurring 3 deaths. Arkansas, California, Michigan, New York, North Carolina and West Virginia each followed with 2 deaths. Only one jurisdiction in 2015, Miami-Dade County, Florida, incurred 2 dog bite fatalities. These fatal attacks occurred 3-months apart.
Additional Statistics and Charts
This year's release also includes statistics and charts from the nonprofit's 11-year data set. From Jan. 1, 2005 to Dec. 31, 2015, canines killed 360 Americans. Pit bulls contributed to 64% (232) of these deaths. Combined, pit bulls (232) and rottweilers (41) contributed to 76% of attacks resulting in death. Charts include the 11-year dog bite fatality chart by breed and age groups. Discussion notes examine a chart depicting each year that shows the breed-specific problem with fatalities.
About DogsBite.org
DogsBite.org is a national dog bite victims' group dedicated to reducing serious dog attacks. Through our work, we hope to protect both people and pets from future attacks. Our website, www.dogsbite.org, was launched in October 2007 and contains a wide collection of data to help policymakers and citizens learn about dangerous dog breeds. Our research focuses on pit bull type dogs. Due to selective breeding practices that emphasize aggression and tenacity, this class of dogs negatively impacts communities the most. Our website hosts important dog bite studies, U.S. dog bite fatalities and other key bibliographies. In the Legislating Dogs portion of our site, we offer examples of breed-specific laws (state-by-state) and documentation of the constitutionality of these laws. The Victim Realities section provides a glance into the unforgettable histories victims leave behind and much more. DogsBite.org operates out of Austin, Texas and can be contacted via: 512-650-8510 or press@dogsbite.org. Research contributions and active website participation stems from individuals that span the United States of America and across the world.
Contact
DogsBite.org
Colleen Lynn
512-650-8510
https://www.dogsbite.org

Contact