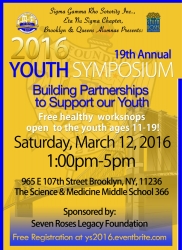 Brooklyn, NY, February 20, 2016 --(
PR.com
)-- The sophisticated ladies of Eta Nu Sigma Brooklyn and Queens Alumnae Chapter of Sigma Gamma Rho Sorority Incorporated, will host its annual Youth Symposium - "Building Partnerships to Support Our Youth."
The event will take place on March 12th at The Science of Medicine Middle School, located at 965 E 107th Street from 1:00-5:00PM for youth 11-19 years old.
The Youth Symposium will feature Run Jump and Throw, a hands-on learning program that will get youths excited about physical activity by introducing them to the basic running, jumping and throwing skills through track and field. Youths will have the opportunity to learn about various professions including STEM in Choosing My Future Career Day as youths will also create vision boards where they will each create an image of their future representing their dreams, goals and ideal life.
In conjunction with the Youth Symposium, the ladies of Eta Nu Sigma will host its first program, empoWOMENt, which will be held for the mothers of the youths and other women in the community. Topics such as financial literacy will be discussed where information will be provided on budgeting, savings and understanding one's finances.
The sorority has been dedicated to service for more than 90 years. Members work to enhance the quality of life for their families, friends and neighbors, and are committed to "Greater Service, Greater Progress."
Free Registration at ys2016.eventbrite.com
Sponsored by Seven Roses Legacy Foundation
"Uplifting Our Legacy of Sisterhood, Leadership and Service"