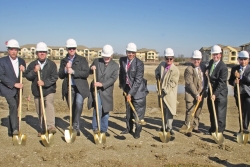 Fort Worth, TX, February 22, 2016 --(
PR.com
)-- J. Wales Construction, in partnership with Lowen Hospitality Management, had their groundbreaking Friday, January 22nd on a new Residence Inn by Marriott slated to open in early 2017. It will be the first hotel in Fairview, Texas, and the fourth project that J. Wales has built for the Lowen Management team. The ceremony started with a brief address by J. Wales Construction CEO, Josey Parks, who discussed the impact of the project on the future of Fairview and its residents. Mayor, Darion Culbertson, Head of Economic Development, Ray Dunlap and Ronald Stewart of Marriott international also shared a few words with the crowd.
The ceremony took place on-site at Murray Farm Road, across the street from the entrance to the Villages at Fairview. Many city officials attended, along with Gary Morgan, and Larry Kellogg of J. Wales Construction, and Ajay Desai and Sanjay Naik of Lowen Hospitality Management.
The six-story Residence Inn will include:
· 117 room suites
· 1,400 sqft of flexible meeting space
· 2,700 sqft lobby with food service, complete bar, exercise room, and indoor pool
· 1,500 sqft patio space with fireplace pit
"This is an exciting project for J. Wales, Lowen Management, and the city of Fairview. We are proud to be part of a project that will create new jobs and bring an influx of visitors to the area. We hope the traffic that Residence Inn drives through business conferences and tourism will translate into strong revenue opportunities for the surrounding businesses as well," says J. Wales Construction CEO, Josey Parks. Gary Morgan, Sr. Vice President of J wales added, "We're most proud that we have been entrusted with our fourth project for Lowen hospitality." Previous J. Wales & Lowen Management Texas projects include Hilton Garden Inn and Convention Space, which is currently under construction in Arlington, SpringHill Suites by Marriott that opened in May of last year in Lewisville, and the Lowen Management corporate offices, completed last year in Grapevine.
About J. Wales Construction: J. Wales Construction is a commercial general contractor based in Fort Worth, Texas, specializing in hotels, senior housing, and assisted living facilities. Founded in 2013, J. Wales is dedicated to transforming clients' visions and dreams into visually dynamic realities. Through the use of sound principles and tools, collaborative workflows, and cost-saving expertise, their team develops inspirational spaces on time and on budget.
Lowen Hospitality Management is a premier hotel developer focused on developing projects primarily geared towards the business traveler under the Marriott and Hilton flags. Previous projects in the north Texas area include the Hampton Inn & Suites in Lewisville, SpringHill Suites in Richardson, Homewood Suites in downtown Dallas, and Springhill Suites in Lewisville. Hilton Garden Inn located in Arlington, Texas is currently under construction.
Residence Inn by Marriott created and defined the Extended Stay lodging category in North America. The brand recognizes the different needs of long stay guests, and is uniquely suited to serve this significant market segment. Residence Inn Hotels offer spacious suites that are designed for longer stays with separate living and sleeping areas so you can work and relax. From fully equipped kitchens and grocery delivery to complimentary hot breakfast and free Wi-Fi, guests will have everything they need to thrive on the road.
Photo Included:
Left to right – Gary Morgan, Larry Kellogg, Josey Parks (J Wales Construction), Ray Dunlap, Mayor Darion Culbertson (Town of Fairview) Greg Malcolm (Lowen) Rick Boyd and Michael Hill (First United Bank) and Ajay Desai (Lowen Hospitality)
Gary Morgan
J. Wales Construction
817-909-7935
gmorgan@jwalesconstruction.com