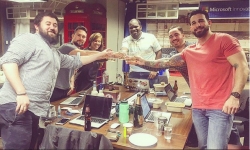 Washington, DC, February 25, 2016 --(
PR.com
)-- HireKeep is proud to announce that it has been nominated for DC Inno's Tech Madness competition, where startups will compete with each other to demonstrate which company will be most valuable in 5 years.
The nomination comes in the wake of HireKeep's first "Startups Meet Sales" networking and matching event last week, which brought a dozen local startups and more than 60 DC-area college students and grads together. The company is pleased to participate in another innovative event in the DC tech community.
Currently, the 160 nominated startups are competing for 64 spots on the official Tech Madness bracket, to be unveiled at a function at Penn Social on March 9. After the bracket is revealed, the startups will compete for votes to advance through the tournament.
HireKeep believes that its proprietary relationship-based algorithm, its satisfied and rapidly growing customer base, and its unconventional marketing and growth strategies will bring the company to victory in the bracket.
The company also hopes that this friendly competition will bring the DC startup community together-- a valuable service in an industry where networking is so important. HireKeep wishes the best of luck to all 160 nominated startups.