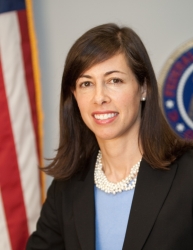 Walnut Creek, CA, March 03, 2016 --(
PR.com
)-- CUE announced today that FCC Commissioner Jessica Rosenworcel will address attendees at the 2016 National Conference, March 17-19, 2016 in Palm Springs, California. She will give a special presentation titled "Closing the Homework Gap" on Thursday, March 17 from 4:45 to 5:15 p.m. in Oasis 4 at the Palm Springs Convention Center.
Commissioner Rosenworcel was nominated for a seat on the Federal Communications Commission (FCC) by President Obama, and on May 7, 2012 she was confirmed unanimously by the United States Senate. Commissioner Rosenworcel brings a decade and a half of public sector and private sector communications law experience to her position at the FCC. This experience has shaped her belief that in the 21st century, strong communications markets can foster economic growth and security, enhance digital age opportunity, and enrich our civic life.
As Ms. Rosenworcel is a national leader and authority on the power of broadband and technology to modernize education and expand opportunity, she will address how to tackle the "Homework Gap," a situation which leaves students without sufficient broadband access at risk of being left behind in the digital age.
"We are honored to have Commissioner Rosenworcel speak to our attendees on such an timely issue," said CUE CEO Mike Lawrence. He added, "For all that this conference represents -- innovative teaching solutions, advancements in technology resources, cultivating student success through new and exciting platforms -- all of that is rendered moot if students are without basic Internet access at home."
Nearly 7,000 educators and administrators are expected to attend the CUE 2016 National Conference either in person or via remote access with
CUE Connect
. Of particular note will be the presence of the state's top education chief, State Superintendent of Public Instruction Tom Torlakson, who will attend the conference on Thursday and Friday and will welcome attendees Friday morning.
In addition to remarks from Rosenworcel and Torlakson, featured speakers at the National Conference include keynote presentations from Hadi Partovi, entrepreneur, investor, and co-founder of Code.org; Pearl Arredondo, principal of San Fernando Institute for Applied Media (SFiAM); and Brad Montague, who along with Robby Novak are co-creators of Kid President. Spotlight speakers at the Conference include Hall Davidson, Leslie Fisher, Lisa Highfill, Cindy Moss, Tom Murray, Luis Perez, and Joyce Valenza.
All conference speaker sessions, detailed descriptions and times as well as in-depth bios on presenters can be found on the CUE Guide at 2016.cue.org.
About CUE
Ed Tech Professional Development is at the core of CUE's work. We strive to inspire innovative learners. By providing Ed Tech professional development to schools, districts, and local educators on the infusion of emerging technologies, we can help better prepare students for college and careers ahead. |
www.cue.org