YouTube Sensations Skilltwins Jozef and Jakob Return to USA for Youth Soccer Camp
Skilltwins Jozef and Jakob are known all over the world by their famous YouTube soccer tutorial videos. Taking social media by storm, they are household names with soccer families all over the world. Jozef and Jakob will be coming back to the USA July 25th to August 9th to give young soccer lovers another round of the "Skilltwin Mania" 4 sessions are available limited space, first come, first serve.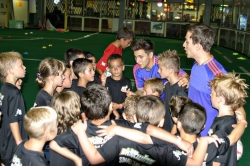 Chicago, IL, March 06, 2016 --(
PR.com
)-- Back by popular demand the "Skill Twins" soccer sensations will be back in the USA offering their Skills, Drills and Free-Style foot work to your soccer super star. This year they are adding an additional hour to train with the twins giving your player a total of 4 hours per session with the twins daily. They are only able to have a MAX of 50 student's per session, once spots are filled session sales will be closed.
Frank DeAngelo, director of coaching for Addison Youth Soccer, and MYSA-Chicago wanted to bring the twins to the U.S. to teach important footwork skills.
"The twins focus is on developing footwork, and our teams have been very successful because of their footwork. The kids love it because they're learning so much. Kids from all over the country are coming to this camp because of the Skill Twins."
$445 per player per Session *plus online fee -Space is limited only 50 spots are available per session.
YouTube Soccer sensations Josef and Jakob also known as the SkillTwins will be conducting a footwork Summer Camp July 25 - 29th and Aug 1st - 5th in a 2 week program built to train your player with the best. Back by popular demand in the United States Jakob and Josef will be teaching you the tricks of the trade. Open to ages 7 to 18 (High School Senior level Max). Each age group will be divided by age and skill.
Session #1 | July 25 - July 29 | 9am-1pm
Session #2 | July 25 - July 29| 3pm -7pm
Session #3 | August 1st - August 5th | 9am - 1pm
Session #4 | August 1st - August 5th | 3pm - 7pm
Each camp attendee will receive a "Skilltwins 2016" camp shirt and photo ops on scheduled days. Your soccer super star will have the ability to learn from the best and get the hands experience from Jozef and Jakob. Training by certified Coaches, Trainers and scrimmage games will also be included with camp.
This years camp will be held at the Addison Trail High School Field house located in Addison, IL.
The Skilltwins will also be making a special appearance at Chicago Street Soccer indoor Futsal facility located in Stratford Mall date of appearance TBA.
For more information email them direct at AddisonSoccer@gmail.com or purchase tickets by clicking on the link below.
www.eventbrite.com/e/skilltwins-2016-summer-camp-tickets-22495918899
Contact
Addison Youth Soccer
Joanne DeAngelo
630-362-1359
www.AddisonYouthSoccer.com
AddisonSoccer@gmail.com

Contact