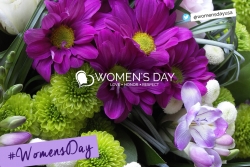 Capitola, CA, March 08, 2016 --(
PR.com
)-- Women's Day Holiday, observed annually worldwide on March 8, is a time to express respect, appreciation and love and to celebrate women's achievements. Around the world, many people give fresh flowers to their mothers, wives, grandmothers and daughters, as well as coworkers, teachers and friends in recognition of Women's Day. In keeping with the tradition of giving flowers on Women's Day, the floral community has combined efforts to raise awareness for Women's Day by giving free flowers away through a campaign called Love, Honor and Respect. "Love, honor and respect translate so beautifully with flowers," said Cheryl Denham, CEO of Arizona Family Florist, located in Phoenix Arizona.
The Women's Day Holiday campaign is centered on encouraging the community to celebrate Women's Day by sharing stories about the special women in their life on
www.womensdayholiday.com
. When someone shares a story, they are nominating that special woman to receive free flowers, compliments of the participating local florists. The campaign to raise awareness for Women's Day in Arizona is being supported by local florists as well as members of CalFlowers (California Association of Flower Growers and Shippers) and ASOCOLFLORES (The Association of Colombian Flower Exporters). The giveaway flowers were donated from the association's member farms and are delivered by the participating local florists. This year farms such as California grower Dramm & Echter are donating tens of thousands of fresh flowers to local florists across the country in support of Women's Day. "It's our responsibility to recognize and support Women's Day by giving back to the wonderful women who support our industry," said Michael Mooney, Manager of Dramm & Echter.
"Every woman deserves Love, Honor and Respect. Whether mother or daughter, young or old, amazing women deserve to be honored this Women's Day. CalFlowers is proud to support Women's Day Holiday outreach efforts," said Michael LoBue, CEO of CalFlowers. Giving a gift of flowers is not only good for the recipient but good for the community. In addition to recognizing and celebrating the achievements of women, the goal is to raise awareness for the non-profit organization Where Hope Lives. The purpose of Where Hope Lives is to rescue trafficking victims, offering them love, hope and a way off the streets. Established in 2009, the non-profit Where Hope Lives, formerly The Rescue Project, is a national leader in the rescue, recovery and prevention of human trafficking and relies on donations and support from both the public and private sector. In addition to helping raise awareness, the floral community donates flowers year round that are used in their heroic outreach efforts as an expression of love when rescuing young women. To learn more about how you can make a difference by donating or volunteering your time to Where Hope Lives, go to
www.wherehopelives.org
About CalFlowers
The California Association of Flower Growers & Shippers (CalFlowers, formerly known as NORCAL) was founded in 1941 by a small group of flower shipping companies to foster the success of the California floral industry within the United States. Today CalFlowers is the leading floral trade association in California serving growers and the entire supply chain in the state and in 45 states across the nation. For more information about CalFlowers, please visit
www.cafgs.org
About ASOCOLFLORES
ASOCOLFLORES was established in 1973 as a non-profit trade organization, to represent and promote the Colombian flower industry in international markets and seek comprehensive development of floriculture, mainly in areas of market access, research, transport, Florverde (socio-environmental label certification) and social responsibility programs to improve the quality of life of workers and their families. ASOCOLFLORES membership represents growers who handle about 80% of total Colombian flower exports. For more information about ASOCOLFLORES, please visit
www.asocolflores.org