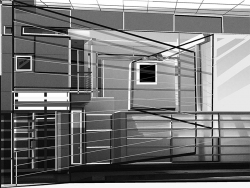 Silverlake, CA, March 09, 2016 --(
PR.com
)-- Los Angeles based artist and designer, Seda Saar's paintings and photographs explore structure, geometry, and patterning found in architecture. At the forefront of what she creates is a fascination with light play and geometries. Inspired by the work of architectural historian Reyner Banham (1922- 1988), in his examinations of the built environment in Los Angeles, SPACELINES URBAN LA is an ongoing series of digital and mixed media paintings and photographs superimposing Saar's spatial constructs and observations of Metropolitan Los Angeles, experienced mostly by car: From the industrial ingenuity of the freeways, ramps, bridges and intersections, to fantastic commercial or residential structures, she constructs spatial observations relating to the contrasting ecologies of the beach, the freeways, the flatlands and the foothills. Saar relates our human connection to the urban environment, as seen and experienced by millions of Angelinos in their daily lives.
The Exhibit continues through April 5th with Artists Reception on March 19th 6- 9 pm at the Neutra Institute Gallery and Museum, 2379 Glendale Blvd., Los Angeles, CA 90039
http://www.neutra.org/museum.html.
Artist Talk and Closing: Sunday April 3, 2-4 pm
Short Bio:
Seda Saar is a Los Angeles based multi-disciplinary artist and designer, working in the field of painting, photography, sculpture and most recently installation. Saar was born Seda Shahinian and received her undergraduate degree in Interior Architecture from London Metropolitan University with honors. She later followed her family to the US, and spent two decades working in commercial interiors and themed entertainment for major Hollywood studios, designing award winning attractions and themed environments. Her current work explores the physics of light and dimensional form, as well as interactive experiential design. She has exhibited her work in Los Angeles, San Francisco, New York, London, Tokyo and Shanghai, and is in permanent collections of private and public institutions.
Fine Art: www.sedasaar.com
Design: Studio S B S
Statement:
"Photographing with effects, symmetry and geometry in mind allows me to see the world in a different light and understanding, capturing the elements that remain hidden in straight photography. The use of symmetry and vanishing points is generally utilized in spatial representation. I use the invisible forces of energy, or fourth dimension, as an archetype for the unconscious. I feel it is a science yet to be discovered although many indigenous cultures especially the Incas, have long unraveled the secrets of the sun, the cosmos, and the rays of light as waves of energy. Following in this tradition, I use spatial projection, symmetry and the theories of super- symmetry to look into the deep internal spaces, where we universally connect to something greater in our existence… These energy lines, photons of light with no mass, are invisible sub- atomic Higgs Boson particles that create all life, filling all known and unknown space without which there would be no atoms or no life."
Bio:
Seda Saar is a Los Angeles-based artist and architectural designer who has been working and exhibiting her work in US & overseas for over 25 years. Saar produces work in a variety of diverse media including digital and analog painting, photography, documentary film, installation art, architectural set environments for stage and themed entertainment. Saar grew up in the UK, and completed her primary education and later her undergraduate degree in Interior Architecture from London Metropolitan University. Relocating to the States in 1982 right after graduation, Saar continued her love of design as a facilities architect for high tech corporate buildings in Silicon Valley, designing the very first 'Teleconference Room' for AT&T's Western Headquarters, as well as lobbies, conference and computer rooms, cafés and corporate interiors for Intel and Apple Corporation. In 1989 she moved to Los Angeles, following her love of visual storytelling, and started work for architecture studios developing the very first Disney Store concept retail and subsequently other stores worldwide.
Saar was privileged to work on award winning branded attractions, for major creative studios such as: Star-Trek Experience (BRC), and M&M Academy-Las Vegas (Landmark), Space Center Bremen (BRC), 'The Amazing Adventures of Spider Man'® Retail, Marvel Superhero Island Retail and Dining, Islands of Adventure (Universal), 'Cat in the Hat' (Dark Ride), Seuss Trolley Train Ride, Islands of Adventure (Universal), Waterworld Spectacular, Jaws, and Jurassic Park River Adventure, Japan (Universal). Her work on an independent feature film: 'Dancing on a Dry Salt Lake' (Hidden Moon Pictures), was rewarded with Best Production Design Award at NY LA Film Festival 2011 (Indie Film Category). An active member of an avant-garde performing arts group: Open Gate Theater in Pasadena, she has designed the stage sets for several multi-media Operas with live improvisational song, dance and music.
Saar's current work references Lyrical Abstraction, Color Theory, Orphism, and the California Light and Space movement. Her exploration of the potential of light disintegrating a solid structure, questions the notions of perception, and how the dialogue between time, space, and 'objecthood' may be negotiated. www.sedasaar.com