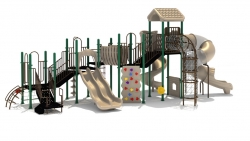 Edmond, OK, March 14, 2016 --(
PR.com
)-- How do you encourage neighborly interaction in a brand new residential community? Start by investing in fun, outdoor recreational activities that will bring all the neighbors out of their homes to make new friends and create lasting memories. Noah's Park & Playgrounds is excited to partner with 4Corners Homes to bring a brand new playground to Choctaw's newest neighborhood, Asheville.
Asheville development is located within Choctaw School district, and offers 3/4 acre home-sites, rolling hills, mature trees and ponds. 4Corners Homes is building brand new homes with energy efficient features at amazing prices with premium home-sites and flexible floorplans. Along with the new neighborhood playground, this beautiful community offers a dog park, splash pad, swimming pool, baseball field, basketball court and nature trails.
Residential parks play an important role in the development of an authentic community feeling in additions such as Asheville. However, given the high-volume usage many residential playgrounds experience, it is important to select top quality outdoor equipment that will offer years of enjoyment, and worry-free use for families. 4Corners Homes chose Noah's Playground design team to create a custom playground structure which offers inclusive play opportunities for children from ages 5 to 12 years-old. The large commercial play structure offers elevated decks and numerous activities such as a spiral slide, tube spiral slide, double bed-way wavy slide, rock wall climber, rope climber, ladder climber, bean stalk climber, tube rope climber and more. The rain forest green, tan and brown structure is ADA compliant with an ADA transfer station and ground level activities.
In addition to the exciting structure, Noah's will be installing a 2-bay, 4-seat swing set with two belt seats and two infant bucket seats to complete the new playground. As a safety precaution, Noah's will also be adding certified wood fiber surfacing and border timbers for surfacing containment. Noah's will also be adding four 6-foot benches around the playground site as well as other community areas. In addition to the playground equipment, 4Corners Homes is providing a baseball backstop to complete their new baseball field within the new Asheville neighborhood community.
Noah's Park & Playgrounds' installation crew will be installing the complete playground site in spring 2016.
About Noah's Park & Playgrounds
Since 2001, Noah's Park & Playgrounds has provided commercial-grade park and playground equipment, on a national level, to housing communities, schools, churches, daycare facilities, special-need centers, non-profit organizations, city parks, developers, and many more. Noah's Park & Playgrounds provides a vast selection of items from early childhood playgrounds, indoor playgrounds, ADA accessible play pieces, outdoor fitness equipment, sports equipment, and park amenities such as tables, benches, trash cans, bleaches, and shades. Noah's Park & Playgrounds specializes in design and bid consultation, commercial playground installation services and custom playground design services.
For more information about the Asheville Housing Development playground design and installation, call Cristen at (405) 607-0714 or email cristen@noahsplay.com.
For more information about Noah's Park and Playgrounds' products and services, please call (877) 248-5444, email us at info@noahsplay.com or visit our website at www.noahsplay.com.